Introduction
Whether you're staying at Nova or Clarendon Street, our student accommodation in Nottingham benefits from great city centre locations. Not only are you well placed for the university, local attractions and amazing nightlife, you also get to enjoy the city's thriving food scene with no end of cuisines to choose from. From finding the best pizza in Nottingham to your favorite bottomless brunch spot, we try to make it easy for you to discover the best places to get great food.
Fish and chips is one of the most quintessentially British dishes you can find, and when you're living in the Midlands, it's terribly important that you find somewhere decent to get your fish and chip fix. We've taken a look in and around Nottingham to bring you the best fish and chip spots. Whether you're looking for a quick takeaway for a night off from cooking or somewhere to sit in with friends, we've found a place that will suit you.
So, enjoy our round up of the best fish and chips in Nottingham and we hope you find your new favourite!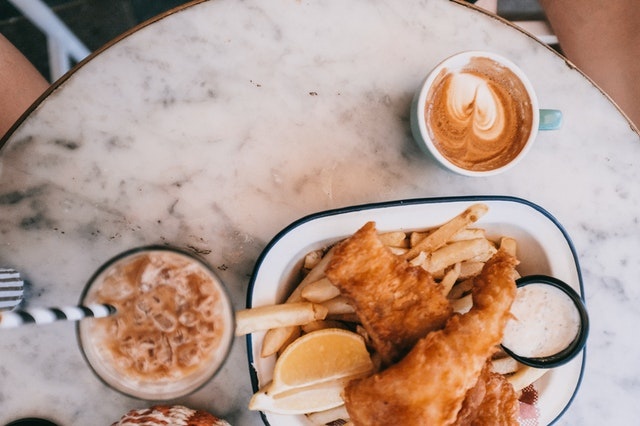 The Cod's Scallop
A rare find for a fish and chip shop; at the Cod's Scallop, you can choose from over 20 types of fish daily – all cooked fresh to order – and decide if you want it baked, battered or naked. The Cod's Scallop in Nottingham was also voted best fish and chips in the UK in 2020, beating out stiff competition from a number of seaside towns. It's a great place for groups to enjoy a casual dining-in experience, although they do also offer delivery. They don't currently take reservations so you may have to wait for a table, but one look at their menu and you're sure to find it's worth the wait.
Google rating: 4.5 (575 reviews)
Where: NG5 2DA
Open: Monday-Thursday 11:30am-9pm, Friday & Saturday 11:30am-9:30pm
Menu: Find it here
Collegiate recommendation: Best for eating in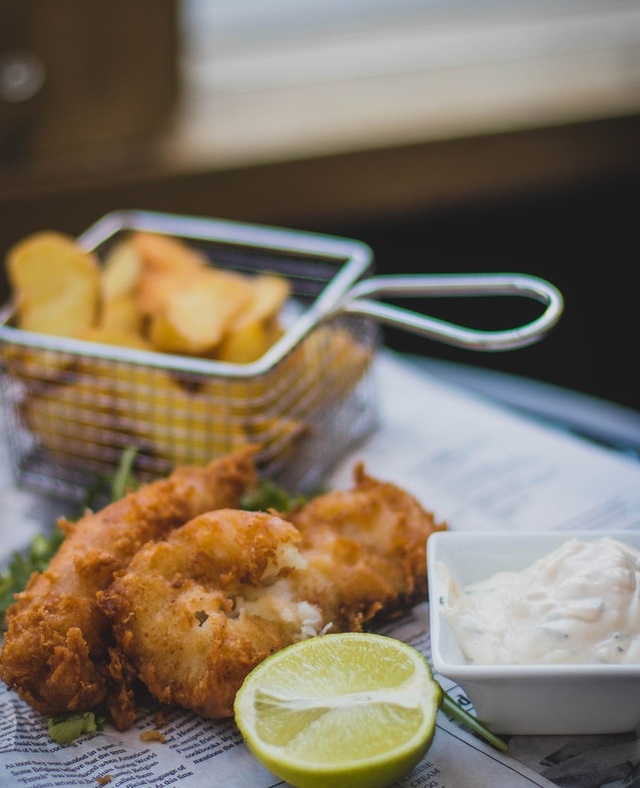 George's
It's a little bit further afield but George's fish and chips is some of the best in Nottingham so we simply had to include it! The glowing reviews indicate that by eating at George's you'll be in for some delicious, well-presented and freshly cooked food – which can also be enjoyed on their mouth-watering Instagram page.
Google rating: 4.3 (835 reviews)
Where: NG10 3RJ
Menu: Find it here
Open: Monday-Thursday 11:30am-9pm, Friday & Saturday 11:30am-10pm
Collegiate's recommendation: Best for takeaway after a day out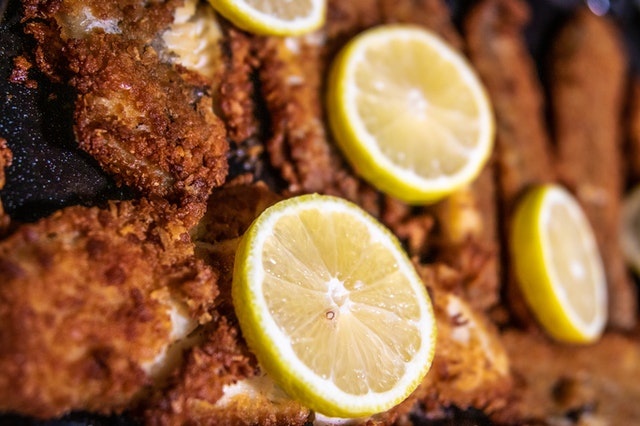 Moulin Rouge
We'll be upfront and say this place is very far removed from the French cabaret that you'd typically associate with the Moulin Rouge! However, this Nottingham institution has been offering up traditional fish and chips in the city centre for over 40 years, so they're clearly doing something right. Conveniently placed in Trinity Square, it's a great stop off for a late night bite or after a night out in Nottingham.
Google rating: 4.1 (128 reviews)
Where: NG1 4AF
Open: Monday-Saturday 11am-9pm
Menu: Pop in and see!
Collegiate's recommendation: Best for a late takeaway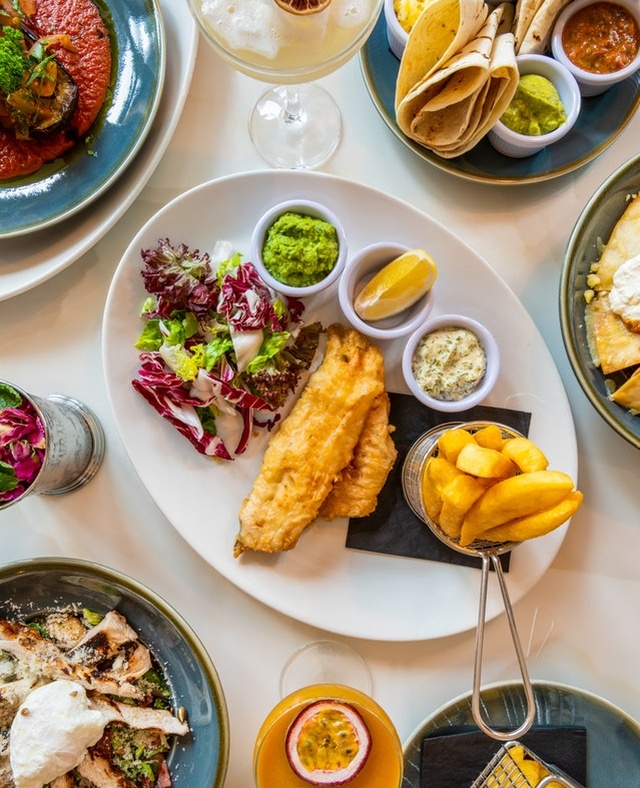 Ye Olde Trip to Jerusalem 
Ye Olde Trip to Jerusalem is one of those spots in Nottingham you simply have to visit while you're living in the city – and it's just a 15-minute walk from our Nottingham Trent University accommodation. It claims to be the oldest inn in the UK, and they've stayed true to its traditional roots with old, yet charming decor and low ceilings. It's also a cosy spot for some of the best fish and chips in Nottingham. Here you can choose from a regular portion or the 'big' fish and chips – which is ale battered cod and triple cooked chips – and we're inclined to recommend the latter!
Google rating: 4.6 (5,002 reviews)
Where: NG1 6AD
Open: Monday-Friday 11am-11pm
Menu: Find it here
Collegiate's recommendation: Best for fish and chips with a beer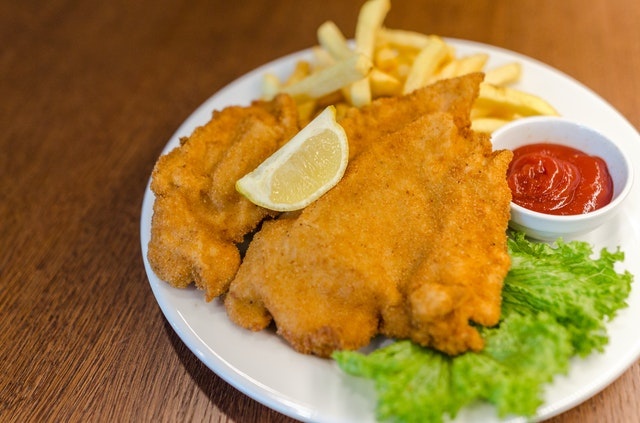 Sea Fish

Not only does Sea Fish offer up some delicious traditional fish and chip dishes, but you've also got a whole menu of delights to choose from. From gourmet burgers (including a vegan option) and fresh pies to Greek gyros and southern fried chicken freshly cooked in their own breaded coating – there's something to suit most tastes here. Unfortunately, they don't deliver but it's only a short drive or roughly a 25-minute walk away.
Google rating: 4.2 (219 reviews)
Where: NG7 2DZ
Open: Monday-Friday 11am-7.30pm, Saturday 11am-3.45pm
Menu: Find it here
Collegiate's recommendation: Best for variety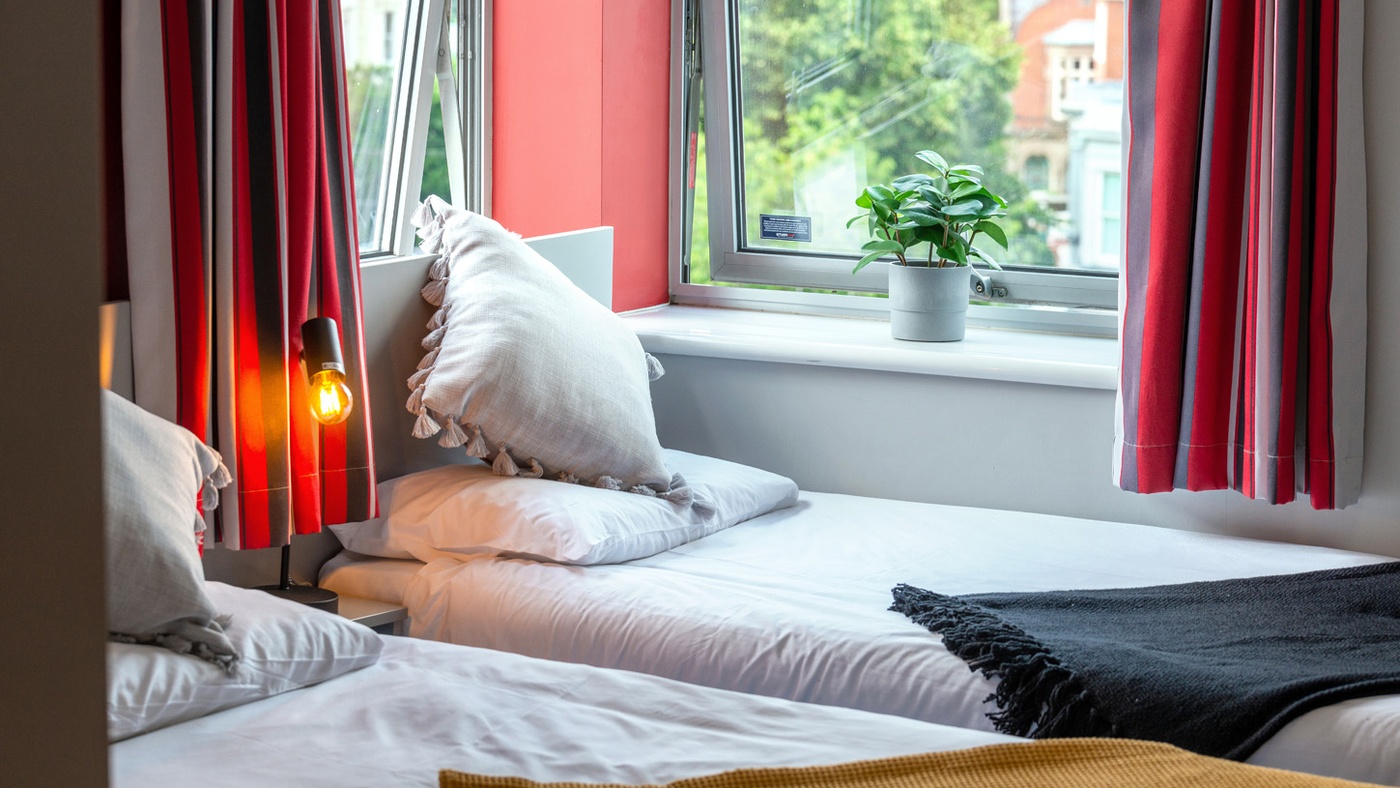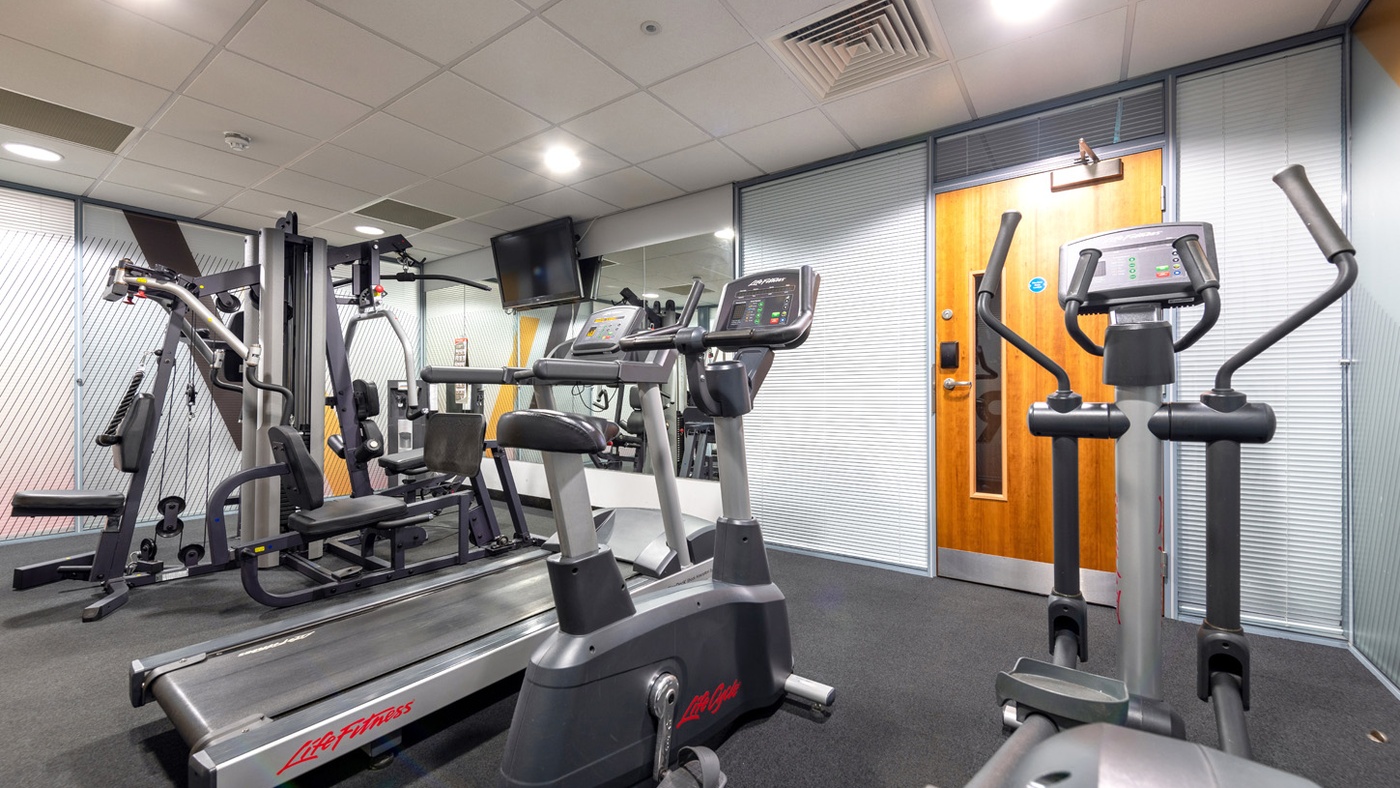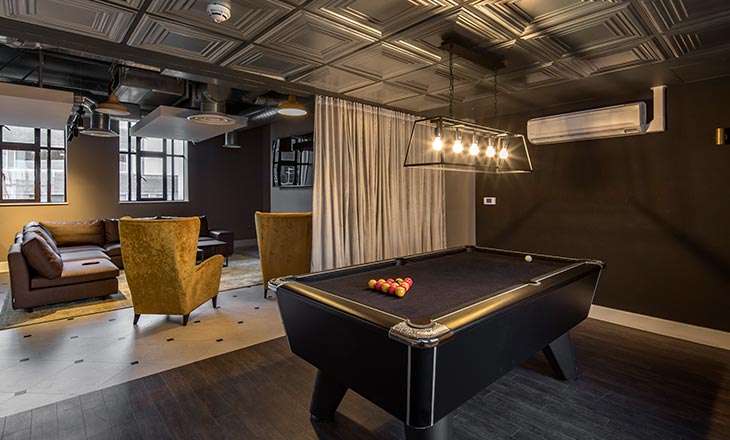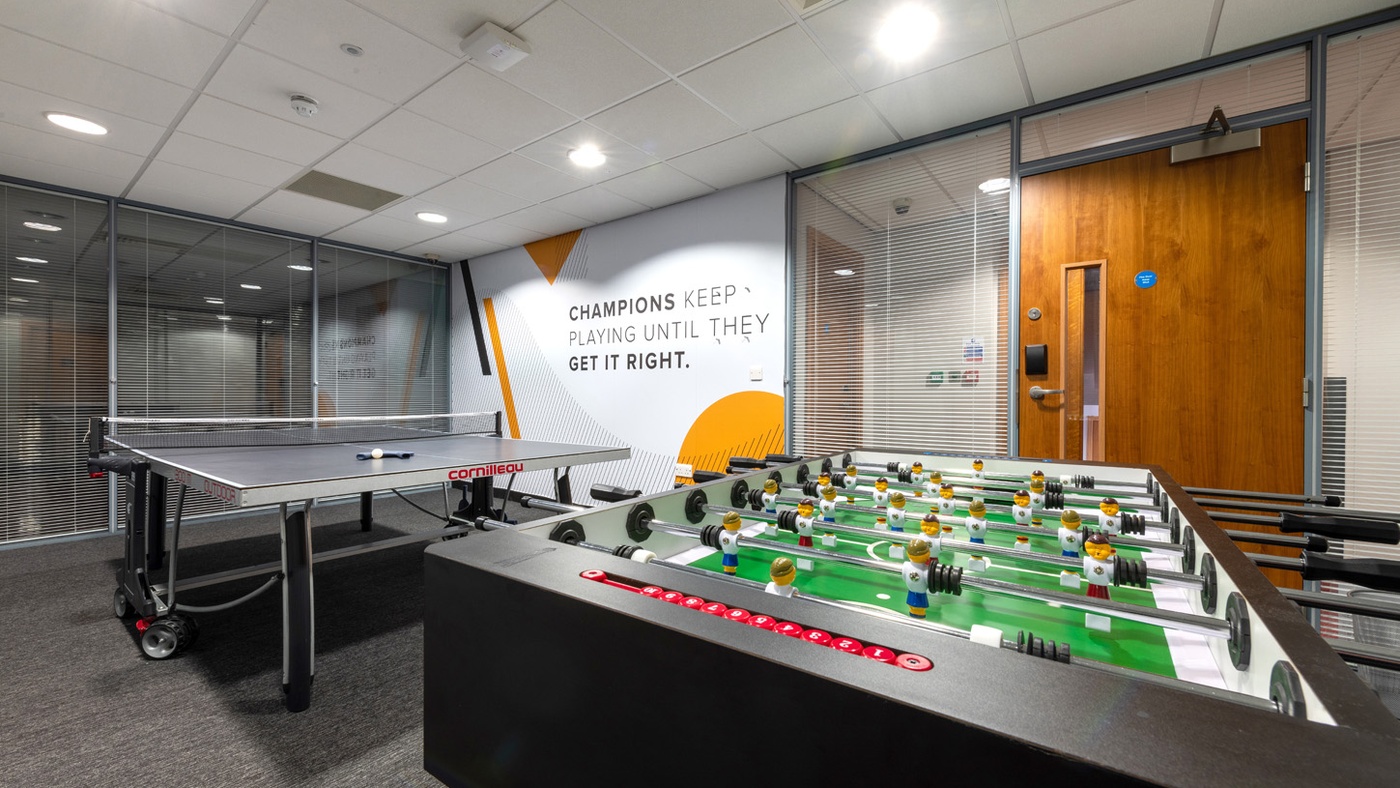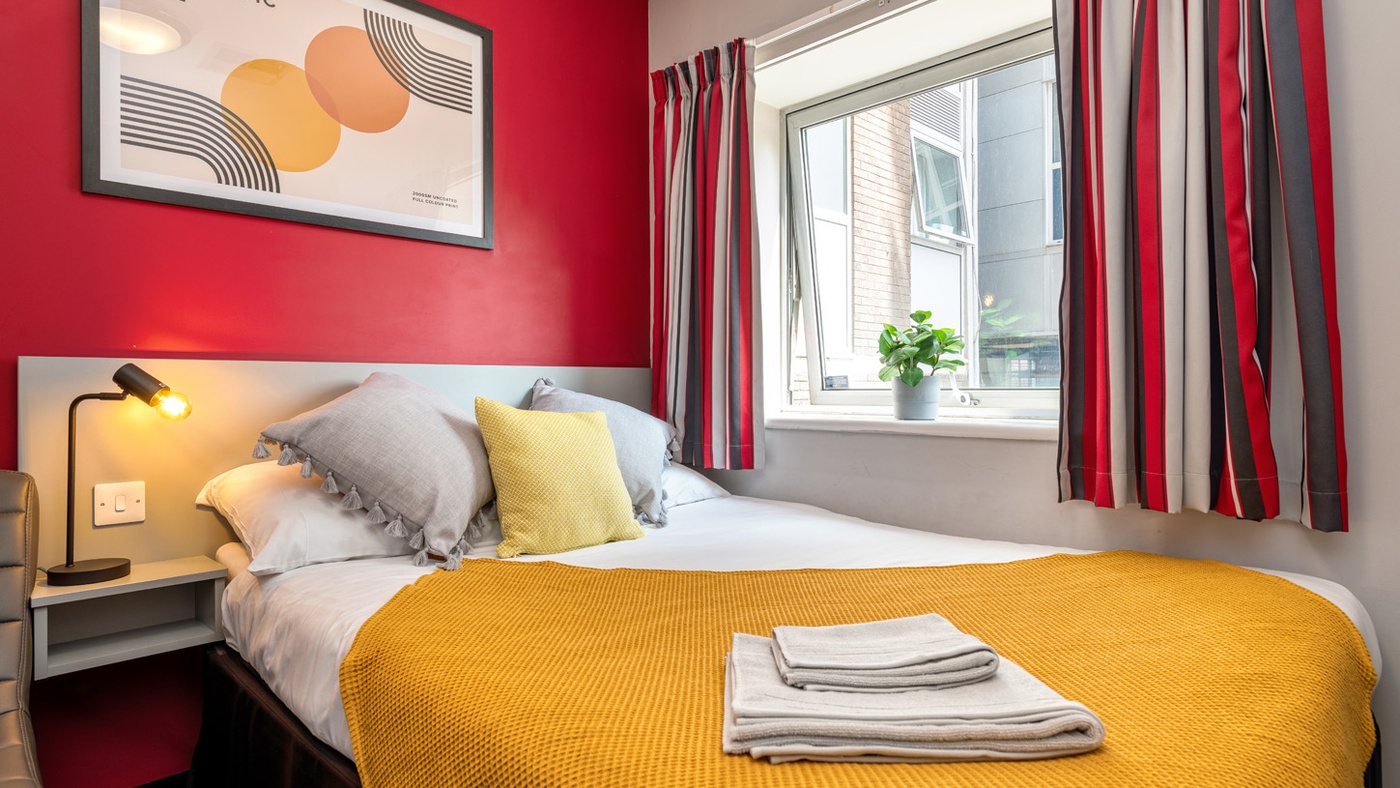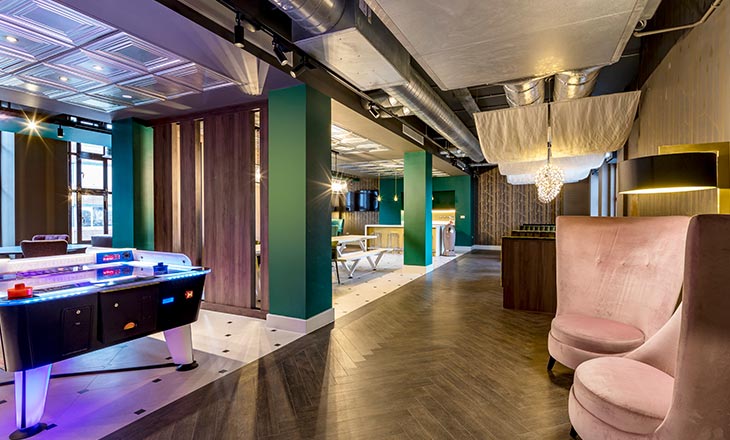 Clarendon Street
Just a stone's throw away from Nottingham Trent University and the hustle and bustle of the centre you will find Clarendon Street by Prima Vidae. With a variety of self-contained studio types and a host of fantastic features, accessible to all Clarendon Residents at Nova by Prima Vidae located just around the corner, including a 24/7 private fitness suite, a fully equipped study room that provides a learning environment and an exclusive communal space with a pool table you will sure enjoy your University years with comfort.
Residents at Clarendon Street will also be welcomed to a vibrant community and have access to a full schedule of virtual and social events. This is first class student living. Redefined.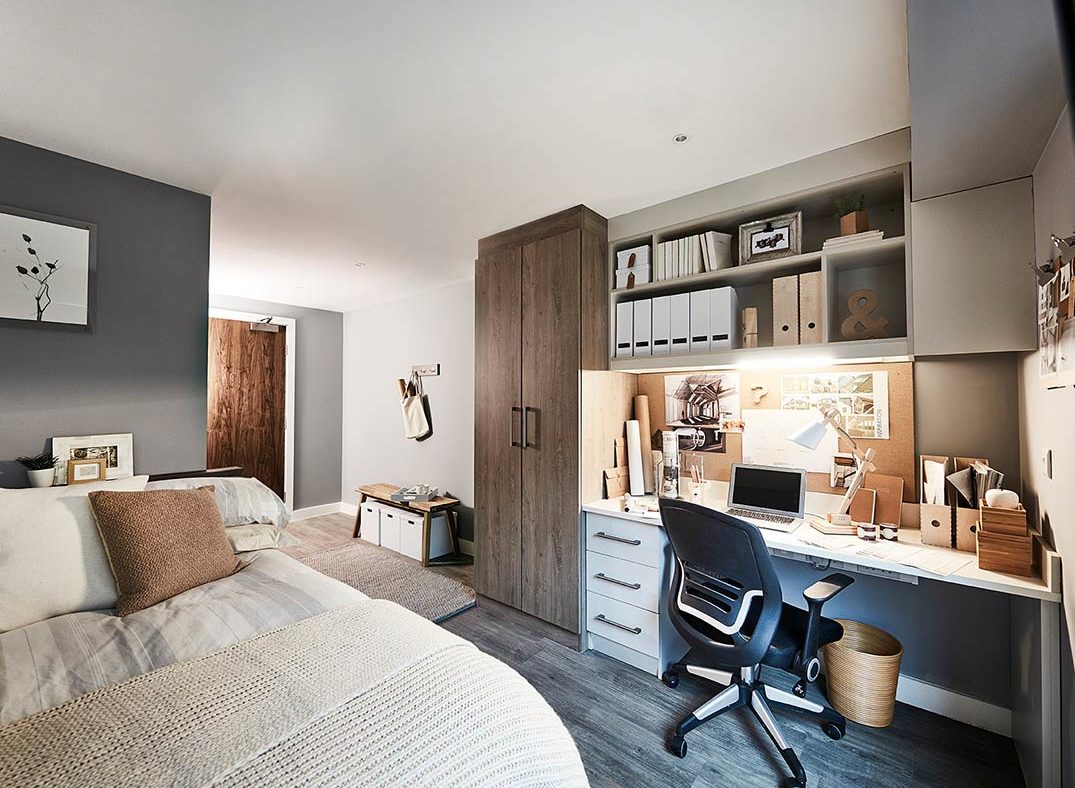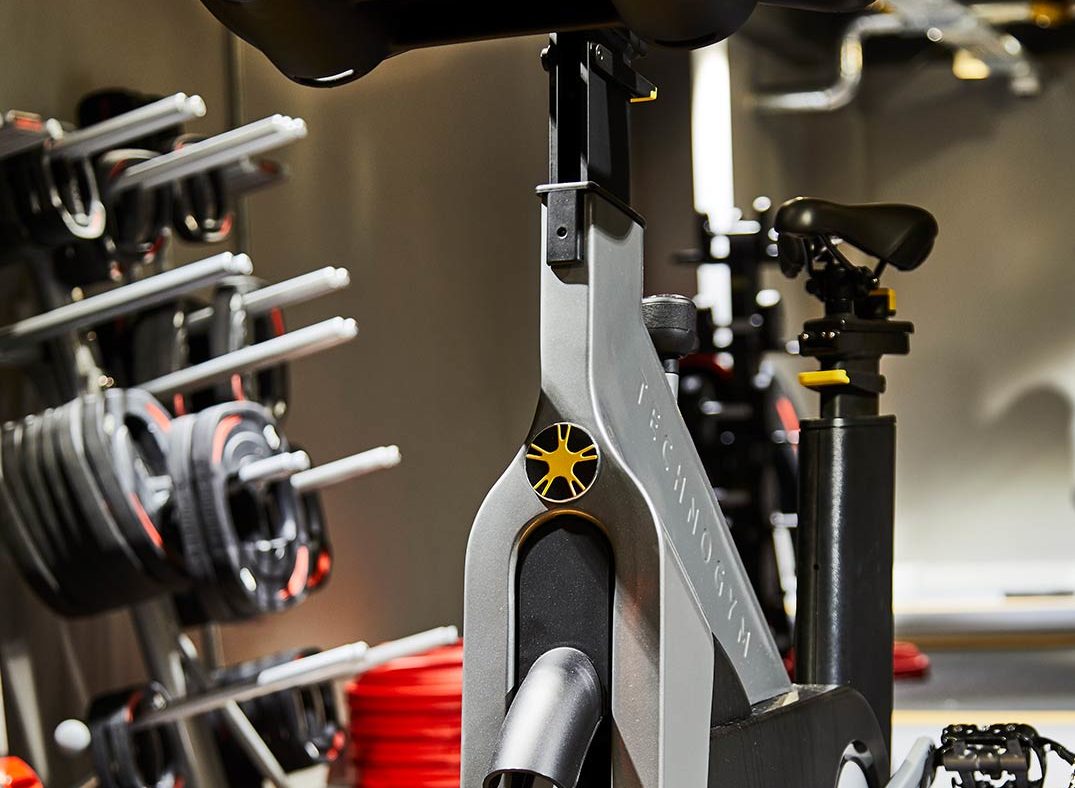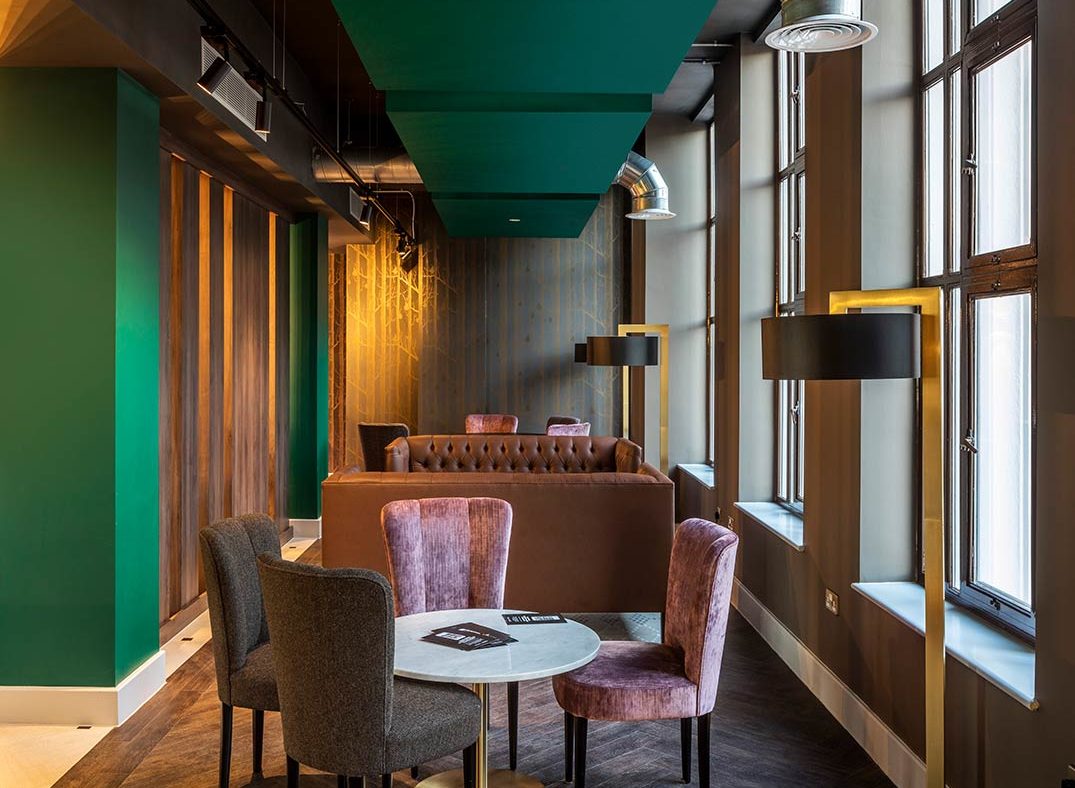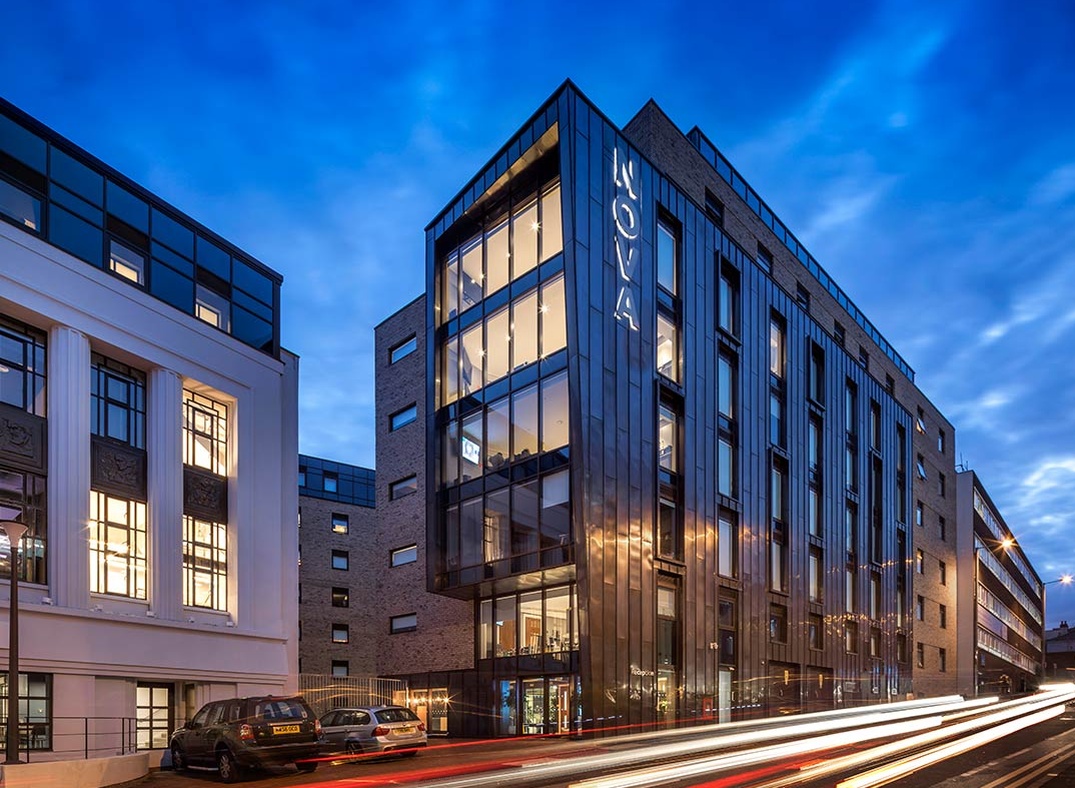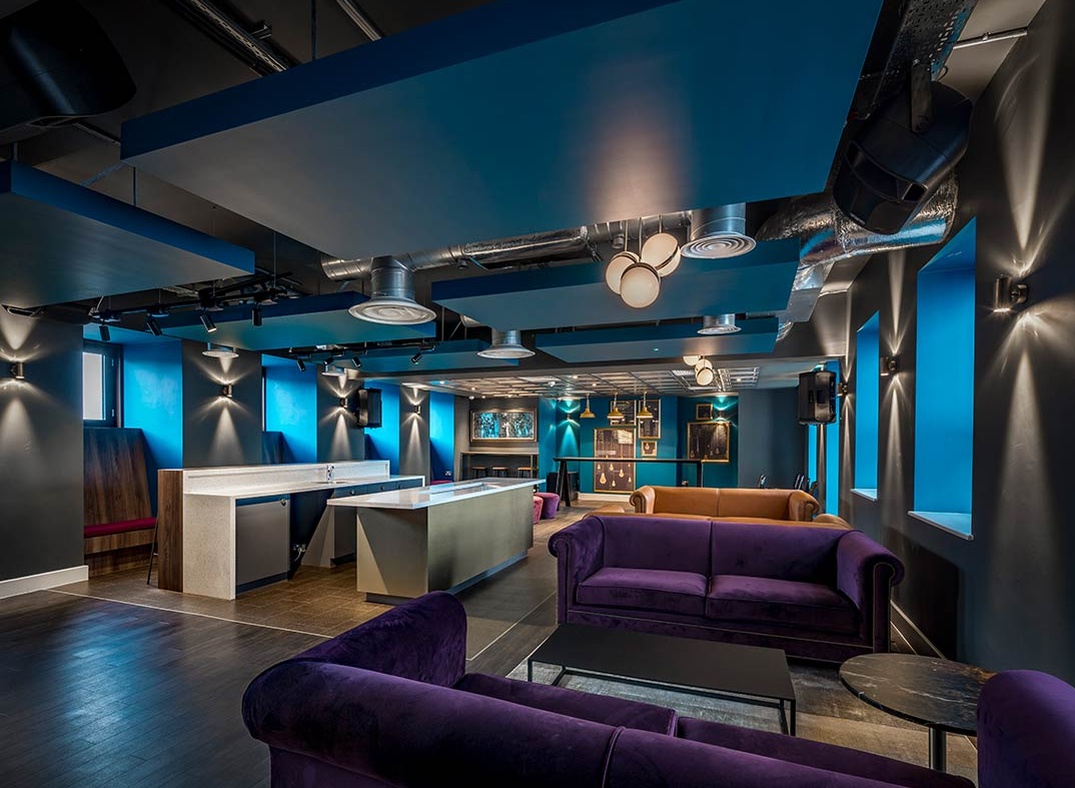 Nova
In space, a nova describes when a star shines brightest. At Nova, Collegiate have crafted the perfect Nottingham student accommodation to allow its residents to shine the brightest.
With an unbeatable city location and design like a boutique, Nova offers exceptional student living to those looking for the ultimate student experience.
We've positioned Nova so that our residents are close to some of Nottingham's most well-known attractions. The amazing city centre location is just around the corner from the best night-life and close to the universities.
Student Accommodation in Nottingham
Whether you're exploring all the incredible food available in Nottingham or coming back from a day of lectures and the library, you'll want a welcoming space to go to at the end of it all. Our student accommodation in Nottingham offers modern and stylish rooms made with your lifestyle in mind. You can take your pick of a range of studios at Clarendon Street or explore studios and shared apartments at Nova – whatever you choose, you'll always benefit from a private en-suite, big comfy bed and ample study and storage space. All bills and WiFi are included in your weekly rent and with a host of amenities and facilities to help make your life easier, you can get on with enjoying living and studying in the great city of Nottingham.