The friendly, experienced and well resourced team at our student accommodation in Cardiff, The Neighbourhood, is here to ensure your needs are met, and have years of experience in the service industry behind them. No task or request is too large or small for them. Just call them The Neighbourhood Watch!
 We're excited to let you know that Sian Owens has joined the team as Concierge and we are excited to have her be a part of the Neighbourhood team here in Wales.
Read on to meet Sian…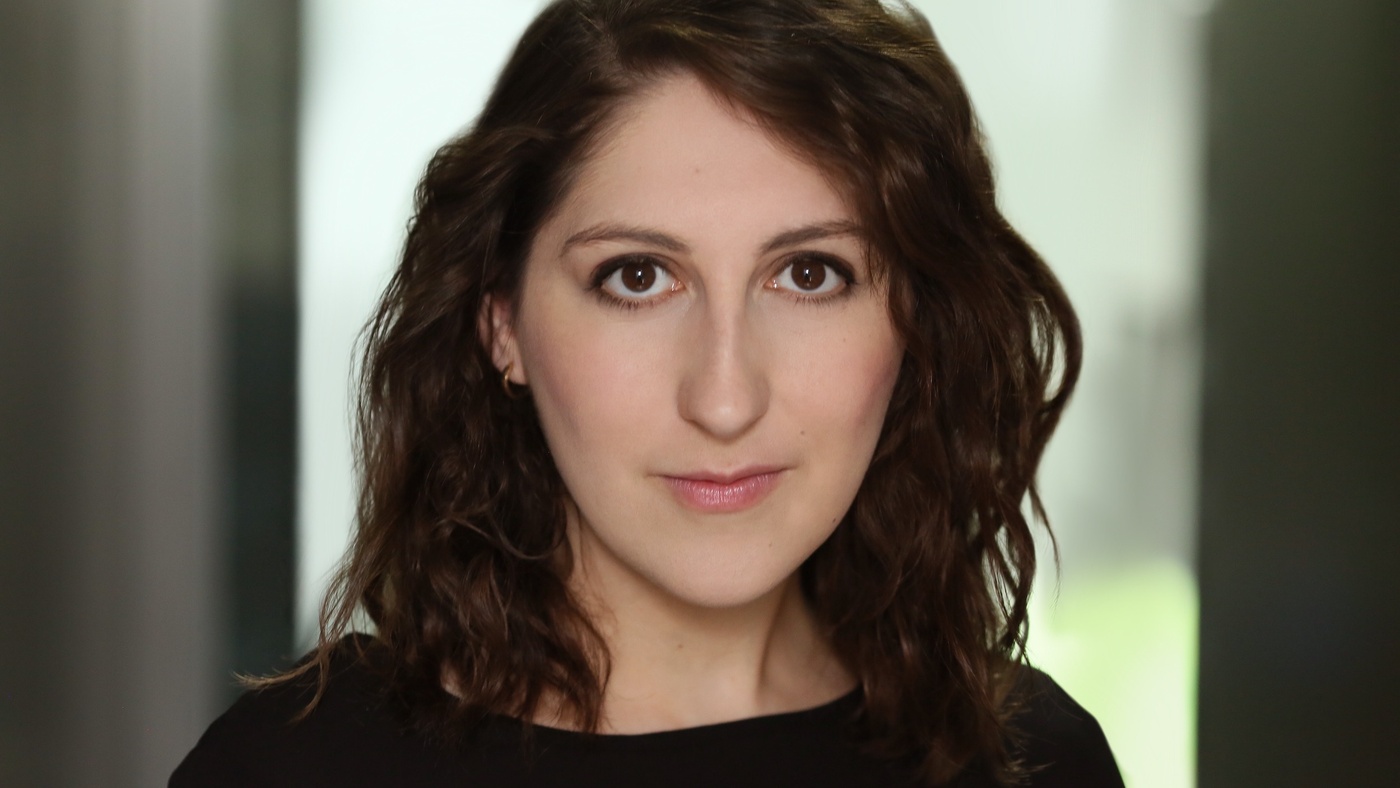 Meet Sian
Sian Owens – Tell us a little about yourself?
I was born in North Wales, I'm also fluent in the beautiful language and studied Drama in London.  I've lived in Cardiff for a couple of years now and I especially love Cardiff because although it's got the buzz of a capital city, it has a friendly community and a fantastic culture with theatre, arts, music, gigs as well as superb history with walks, bike tours etc.
How would you describe the Neighbourhood to new residents?
The Neighbourhood is very friendly and has a community, I've got to know everyone and I think the difference is absolutely our neighbourliness. It's very close to the city centre, and we're on the corner of City Road which is lively with restaurants.
What's your working day like?
I help people with any questions they may have, it's a very relaxed atmosphere here and I love to have a chat, make sure everyone's happy, helping the smooth running of the building be the best it can be.
Which is your favourite room/space to hang out in the Neighbourhood and why?
I love the communal kitchen and private dining room, it's so spacious, well equipped and calm.  The lighting is lovely and it would make a superb venue for a friendly dinner party for pals or family.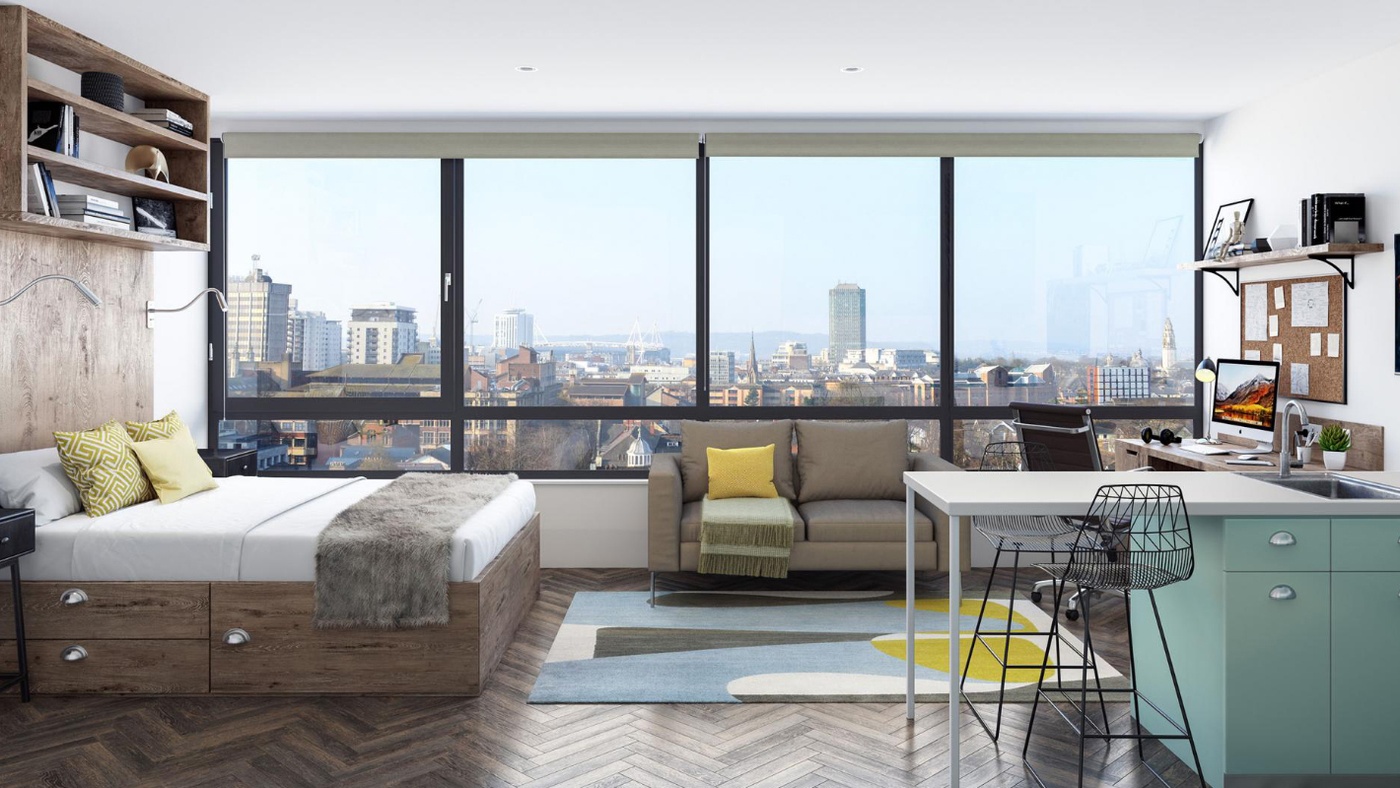 Which is your favourite studio and why?
The Penthouses (see picture on the right) of course, and as they only currently priced at £199 per week which is amazing!  If I was a student, I definitely would. The views over the city are expansive, they're wonderful.
What measures are you taking to ensure the safety of residents regarding coronavirus?
We have sanitisers and lots of disposable facemasks for people, we're all wearing facemasks which I think is a really good thing and as usual our cleaners do an amazing job.
What is included in the price of the rent for students here?
EVERYTHING – access to all our facilities – gym, cinema, karaoke; we also do breakfasts, have bikes, laundry room, teams at hand 24/7 and strangers can't come in off the street.
What are you doing for freshers' week?
We're going to be as careful as possible during these challenging times and are setting up some amazing virtual initiatives and events to keep everyone safe and happy – watch this space!! Thinking about online masterclasses, yoga, cookery, tea masterclasses, chocolate making, comedy and lots of fun creative ideas.
Sian is really looking forward to meeting you all and making our Cardiff Met University accommodation truly your home away from home while at university in Cardiff.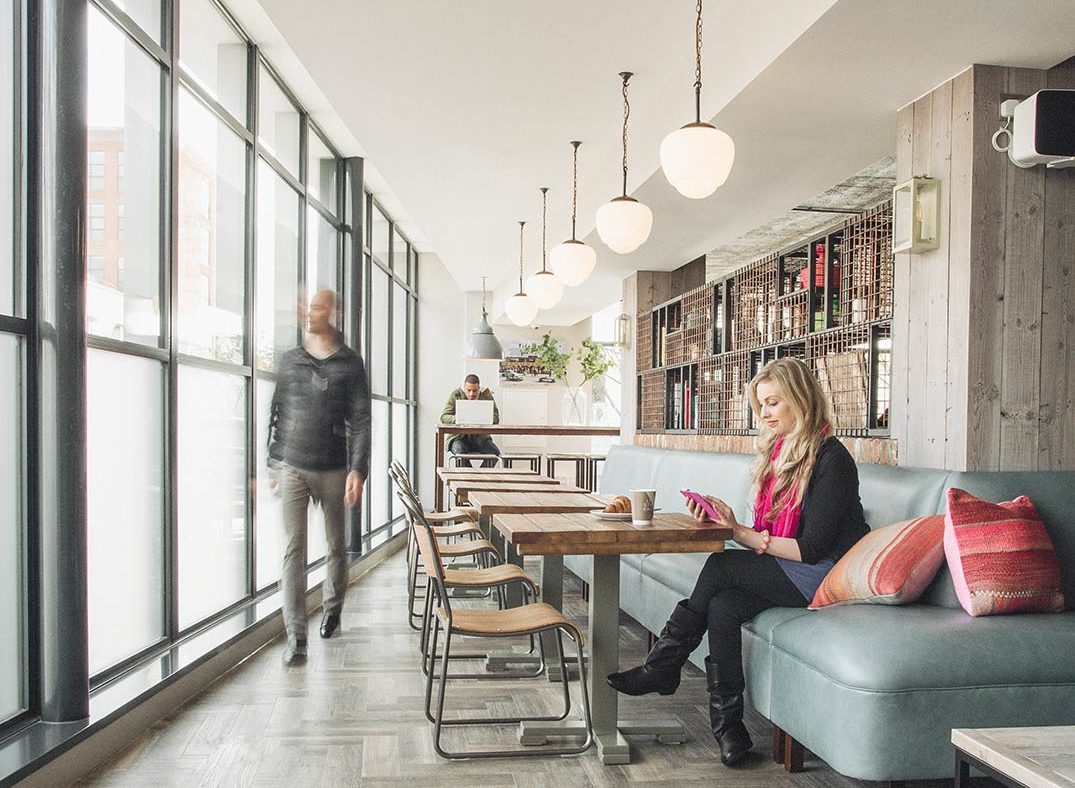 Exceeding expectations at The Neighbourhood Cardiff
Sian and the rest of our concierge service are available 24/7 to help you with anything you need – from calling a late night taxi or locating Cardiff's best burgers, to advice on tomorrow morning's presentation or just to chat if you're feeling homesick.
Our Cardiff Met University accommodation has everything you need, all safely under one roof. From award-winning self-contained studios and air-conditioned penthouses to mega-fast broadband and spacious social areas. From all-day all-night concierge to a fully loaded gym, cinema, karaoke, private dining, games room, courtyard and coffee-bar.  All bills are included and we even have free bikes!
With an exceptional start price at £114 per week and our flexible tenancies and start dates in-line with University courses, we are sure you can find the student accommodation of your dream with us. Simply email neighbourhoodcardiff@collegiate-ac.com or speak with our friendly team on +44 (0)29 2104 0601 to secure your room now!
Our student accommodation residence is conveniently located on the corner of City Road and The Parade in the heart of Cardiff – ensuring you're within easy reach of the university, railway station and the rest of the city. The Neighbourhood Cardiff is a unique experience for students – it's not just somewhere to live it's a lifestyle!