The 10 Best Fish and Chips in Sheffield
Living and studying in Sheffield has so many perks. There's the city's rich cultural history and the huge choice of beautiful open spaces and green parks, while also being perfectly placed for trips to the nearby Peak District. You've also got no end of restaurants and bars to choose from and shops to enjoy. As Yorkshire's second largest city, it's home to two excellent universities that are easily accessible from our student accommodation in Sheffield.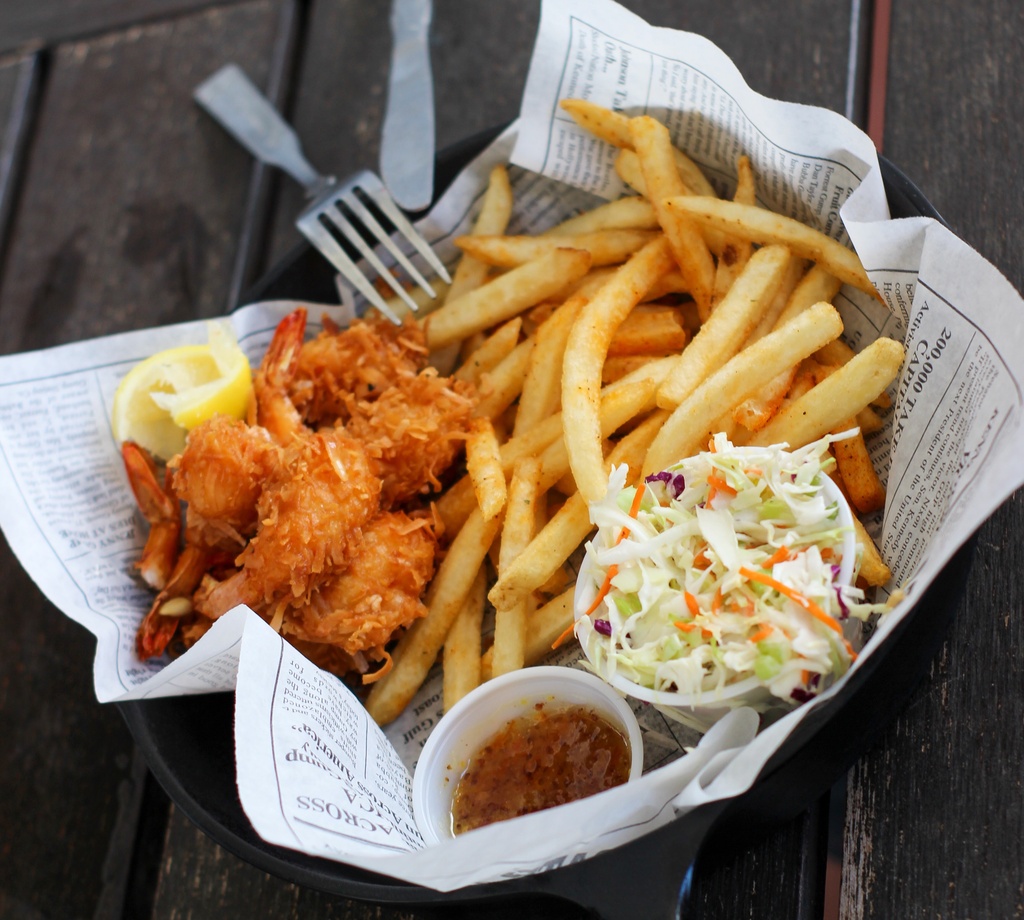 With great transport links and within walking distance to both University of Sheffield and Sheffield Hallam University, residents can also enjoy an on-site club lounge, exclusive events, unlimited broadband and so much more – always with all-inclusive rent. With a few less things to worry about, you can focus on your studies and enjoy the great city of Sheffield.
You may not automatically think of fish and chips when you're in Sheffield, in part because of its central location in the UK. Although the nearest beach (Cleethorpes, if you're wondering!) is roughly an hour and a half away – not as far as you may have thought. However, when you fancy fish and chips, it won't always be practical to make that journey so we've rounded up the three best fish and chips in Sheffield for you to enjoy.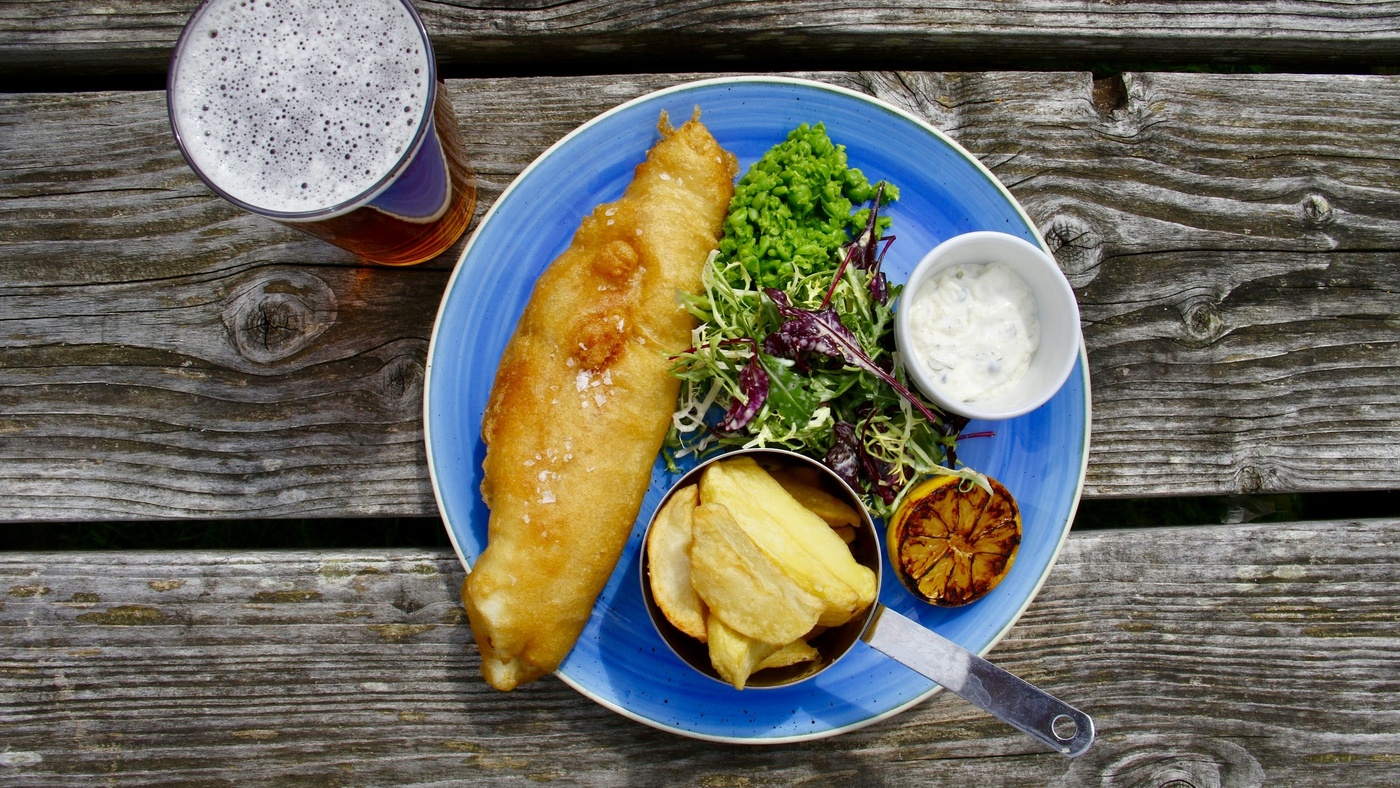 Whitby Fish & Chips, Poplar Way
Just a car ride away from your student flat, Whitby's brings you not just top quality fish and chips but also offers a range of starters, pies and salads – all freshly prepared on the premises. They don't currently deliver but do takeaway, as well as eating in at one of their spacious restaurants in Rotherham and Doncaster. They've also racked up an impressive five star rating on Trip Advisor so it's clearly not one to be missed while you're studying in Sheffield.
Open: Monday-Friday 11:30am-9pm
Rating: 4.4 stars
Where: Poplar Way, Catcliffe, Rotherham S60 5TR
See the menu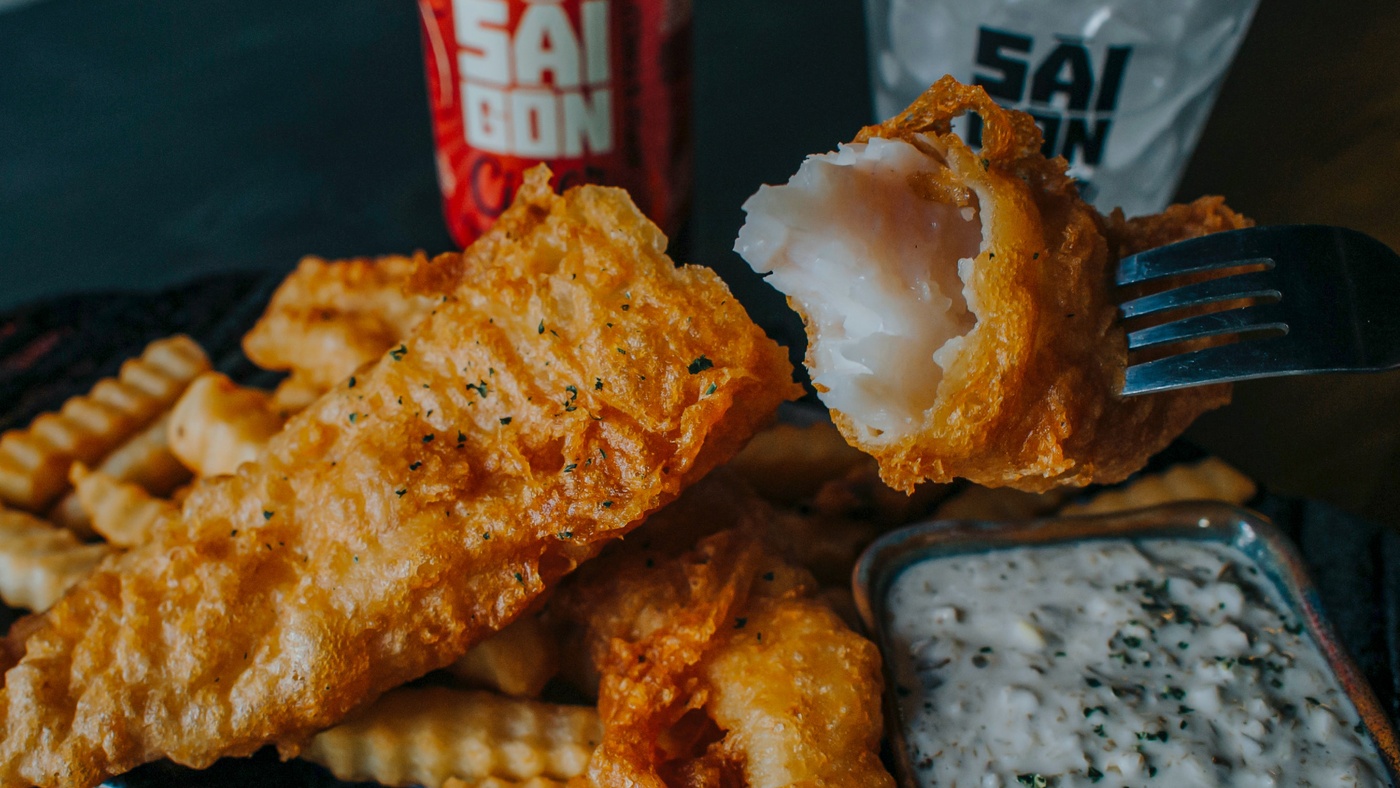 Brenda's Fish & Chips, Earl's Way
Proper fish and chips isn't too far away with Brenda's Fish and Chips in Sheffield. This unassuming fish and chip spot has spaces to sit in if you fancy it, but given that it's just a 3-minute walk from your Sheffield uni accommodation you can be enjoying it from the comfort of your own space in no time at all. Expect a very traditional offering that includes such delights as classic cod or fish cake butties or venture out to one of their signature 'fry-it' dishes or chilli, cheese and chips. You'll be spoilt for choice but you'll have to be quick as this fish and chips spot in Sheffield is only open in the afternoons.
Open: Monday-Friday 11:15am-2:30pm, Saturday 11:15am-3pm
Rating: 4.4 stars
Where: 2 Earl Way, Sheffield S1 4QA England
See the menu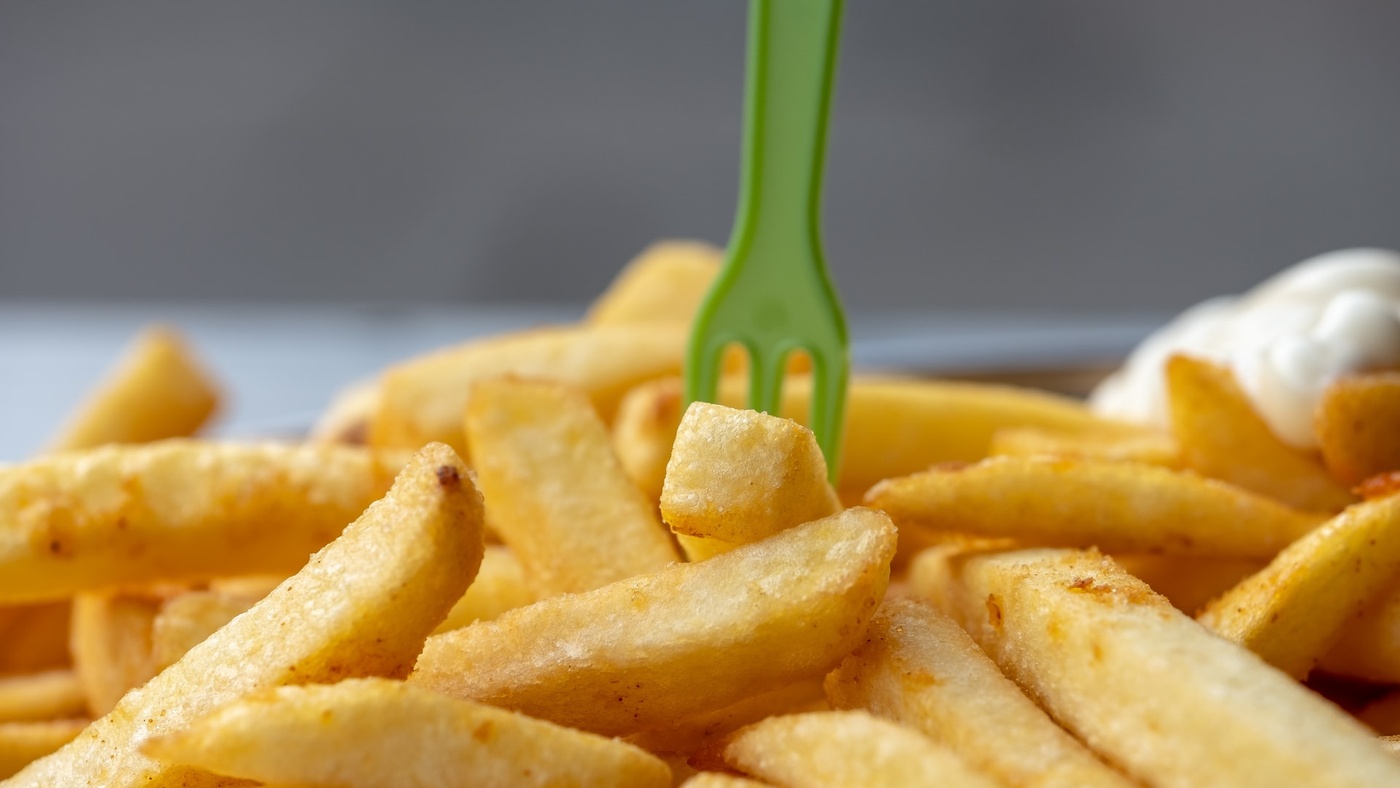 Poseidon Fish Bar, Abbey Lane
Not content with being crowned Sheffield's best fish and chips, Poseidon Fish Bar was also awarded a certificate of excellence by Three Best Rated as one of the top three fish and chips in Sheffield. They promise high quality fish sourced from Fair Trade and ethical suppliers in Scotland and source their food locally wherever possible.
Just a short car ride or half hour walk away from your Sheffield uni accommodation, they don't have a sit-in option but do offer takeaway and delivery.
Open: Monday-Saturday 11:30am-10pm, Sunday 4pm-10pm
Rating: 4.6 stars
Where: 13 Abbey Lane, Woodseats, Sheffield S8 0BJ
See the menu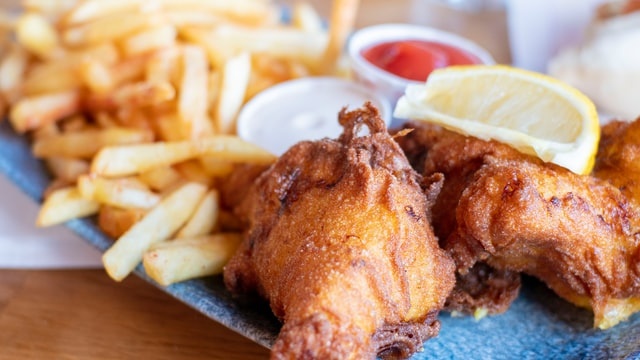 Delphine's Kitchen, City Centre
Delphine's Kitchen is a great spot for vegans and vegetarians to have on their radar in Sheffield. If you have a craving for a fish and chip dinner, try their deep fried tofu and chips. vegan surf and turf boxes or their great selection of veggie pies. If you download the Mealbase app, you can sometimes take advantage of some cheap deals and help stop food going to waste. Although they frequently sell out so if you're keen to try, be sure to get in there quickly!
Open: Saturday-Thursday 10am-8pm, Friday 5pm-8pm
Rating: 4.7 stars
Where: Sheffield City Centre, Sheffield S1 4SE
See the menu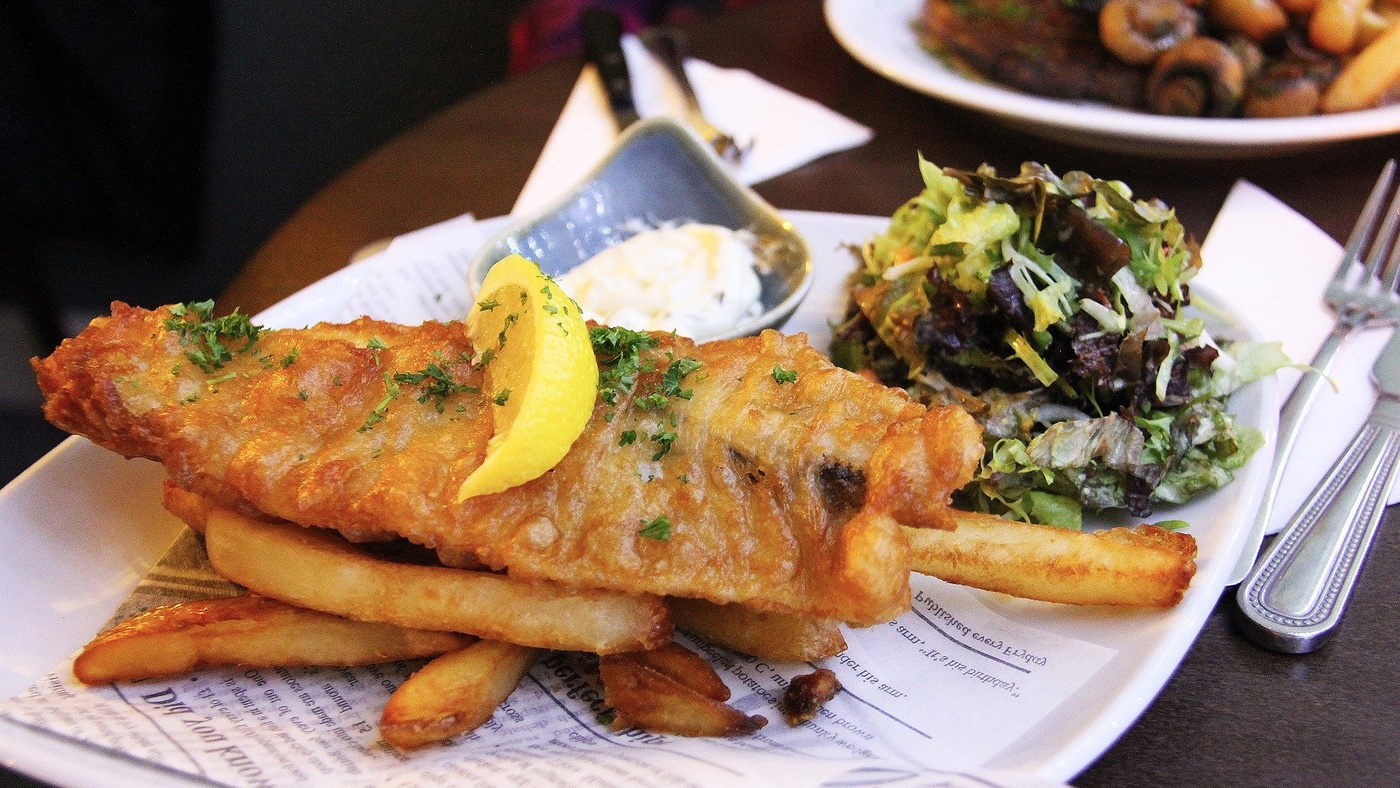 Neptune Fish & Chips, Ecclesall Road
This cosy little fish and chip shop is a real gem in Sheffield. Boasting an impressive 4.7 star rating on Google, customers rave about the food but also the affordability – you can get chips, peas and a battered sausage for just £3, so it's not just delicious but student budget friendly too. There's very limited seating inside but the location of Neptune means you're right by Chelsea Park, one of many green spaces and parks in Sheffield to sit and enjoy your chips.
Open: Tuesday-Saturday 12am-2pm & 5pm-9pm
Rating: 4.7 stars
Where: 989 Ecclesall Rd, Sheffield S11 8TN
See the menu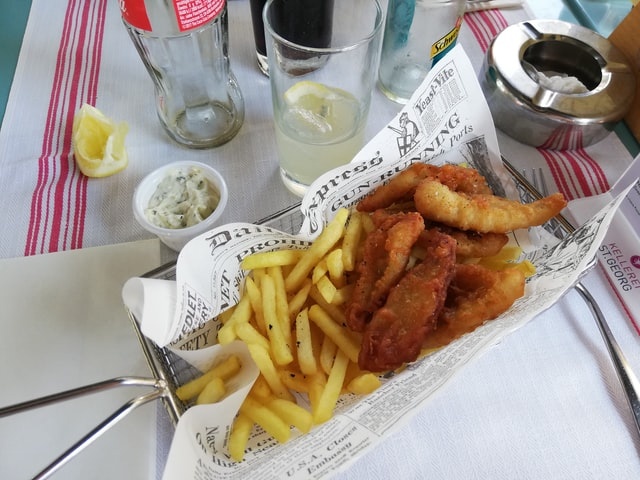 Three Merry Lads, Redmires Road
One of the many perks of living in Sheffield is having an amazing city on your doorstep but still being within easy reach of some truly stunning British countryside. On the western border, overlapping into the Peak District is the 200-year-old pub The Three Merry Lads. It's the perfect pit stop for their much-loved fish and chips (customers have left some rave reviews online!) when you want to take a break from the city and go on an adventure. There's plenty of parking if you decide to take the short 15-minute drive, or you can be there in under 40 minutes by bus and you'd like to sample some traditional cask ales to go with your chippy dinner.
Open: Monday-Sunday 12pm-11pm
Rating: 4.2 stars
Where: 610 Redmires Road, Sheffield S10 4LJ
See the menu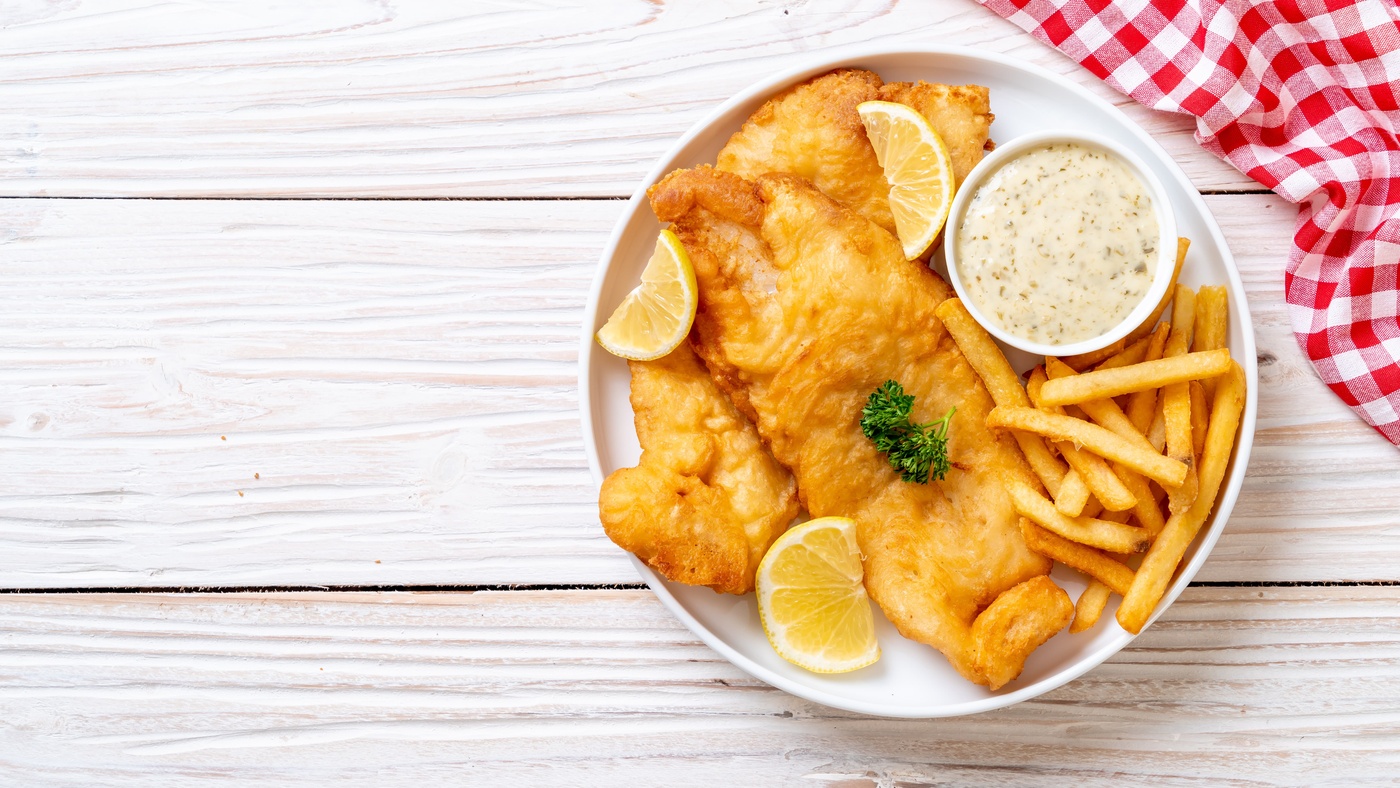 Frog & Parrot, Division Street
Just down the road from your Sheffield university accommodation, the Frog and Parrot is a good pub to know. Not only do they have a great selection of drinks and plentiful food menu, you'll also find a dedicated section just to different takes on fish and chips. From the traditional cod to classics with a twist such as battered halloumi, there's bound to be something for everyone – which is handy as it's a super welcoming place for large groups. And on a sunny day you can take advantage of the delightful beer garden while you enjoy your fish and chips in Sheffield.
Open: Monday-Sunday 11am-11pm
Rating: 4.2 stars
Where: 94 Division Street, Sheffield, South Yorkshire, S1 4GF
See the menu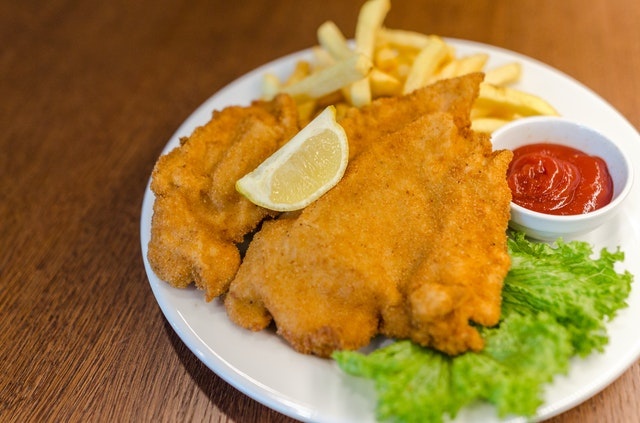 Two Steps, Sharrow Vale Road
Two Steps in Sheffield is practically an institute of the city as it was opened in 1895 and still going strong. It's a great spot for fish and chips but also celebrates food from Yorkshire such as rissoles, fishcakes and buttered breadcakes (ask a local if you're not sure what they are!) but it's the hugely popular special deal that caught our eye. For just £2.25 you can have a sausage or fish and chips with a side of your choice, so it's perfect for a quick but delicious dinner on a budget.
Open: Monday-Saturday 11:30am-2pm & 5pm-9pm
Rating: 4.6 stars
Where: 249 Sharrow Vale Road, Sharrow, Sheffield S11 8ZE
See the menu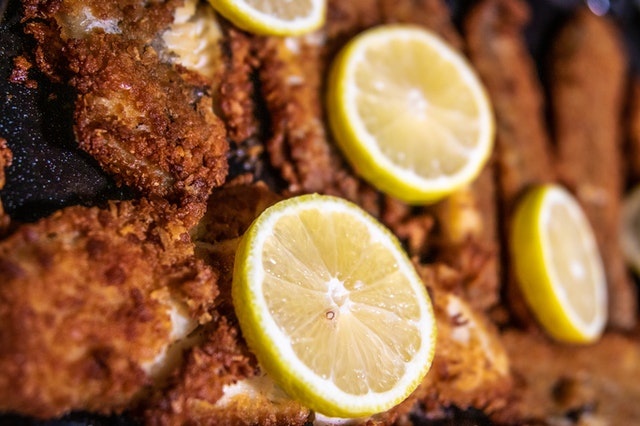 The Old House, Devonshire Street
The Old House is another great spot for fish and chips in Sheffield that caters really well for vegans and vegetarians looking for a chippy dinner. Whether you opt for their tofu or 'to-fish' dish or stick with the classic haddock, both are served with scraps, chunky chips and mushy peas so nobody has to miss out! The Old House is also a really homely pub with cute and quirky decor and a great spot to go to with your mates after a long day at uni.
Open: Monday-Thursday 11:30am-11pm, Friday & Saturday 11:30-1am, Sunday 11:30am-10pm
Rating: 4.1 stars
Where: 113-117 Devonshire Street, Sheffield S3 7SB
Visit The Old House Facebook Page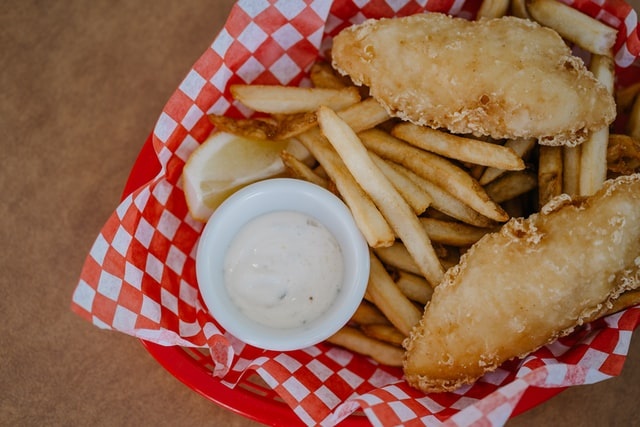 The Prince of Wales, Ecclesall Road South
If you're looking for delicious fish and chips in a contemporary pub with a traditional feel then you definitely need to take a trip to The Prince of Wales in Sheffield. Reviewers rave about the pub's super fresh fish and chips and you're more than welcome to swap out the fish for tempura battered halloumi. It's an ideal spot for fish and chips in Sheffield but also great if you're celebrating and want to go somewhere that feels a little fancier.
Open: Monday-Sunday 12pm-10pm
Rating: 4.3 stars
Where: 95 Ecclesall Road South, Sheffield S11 9PH
See the menu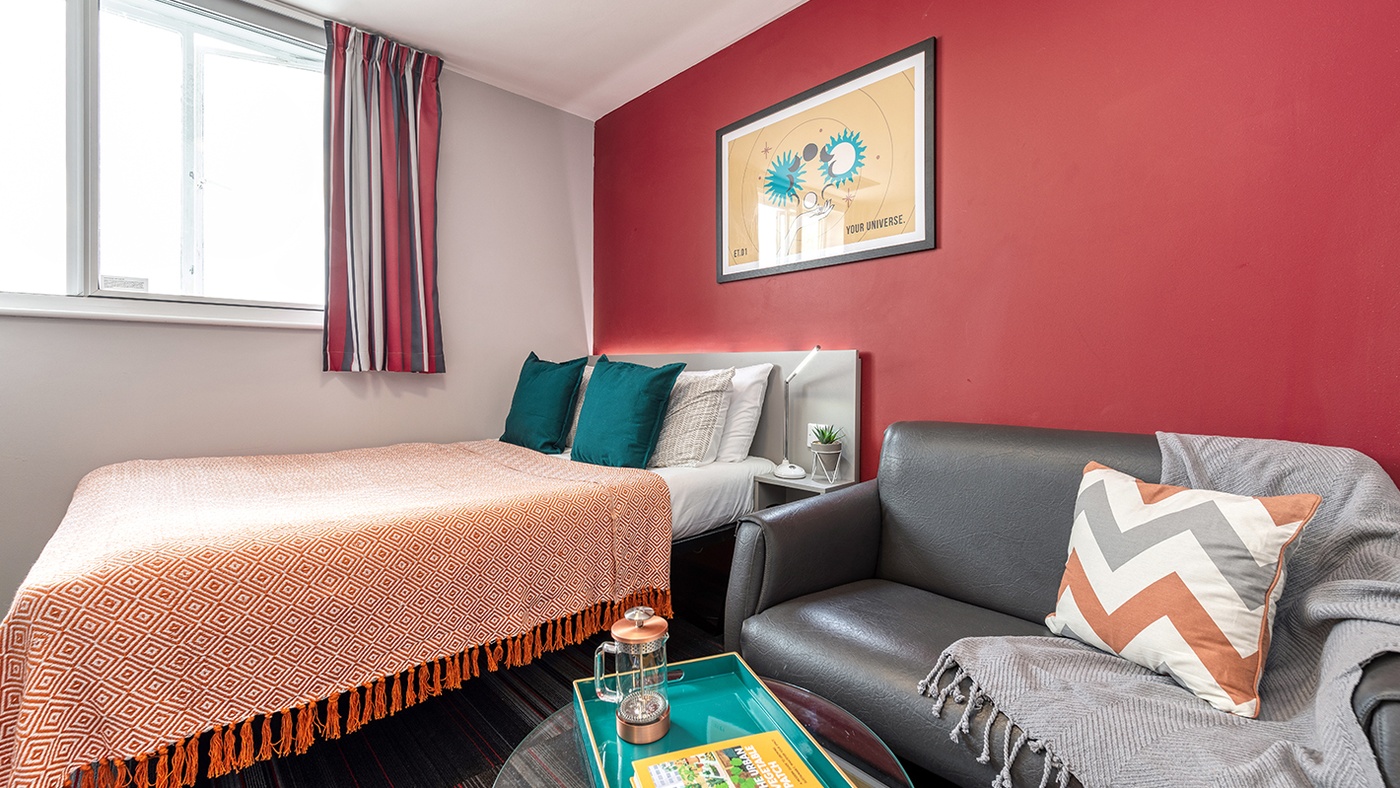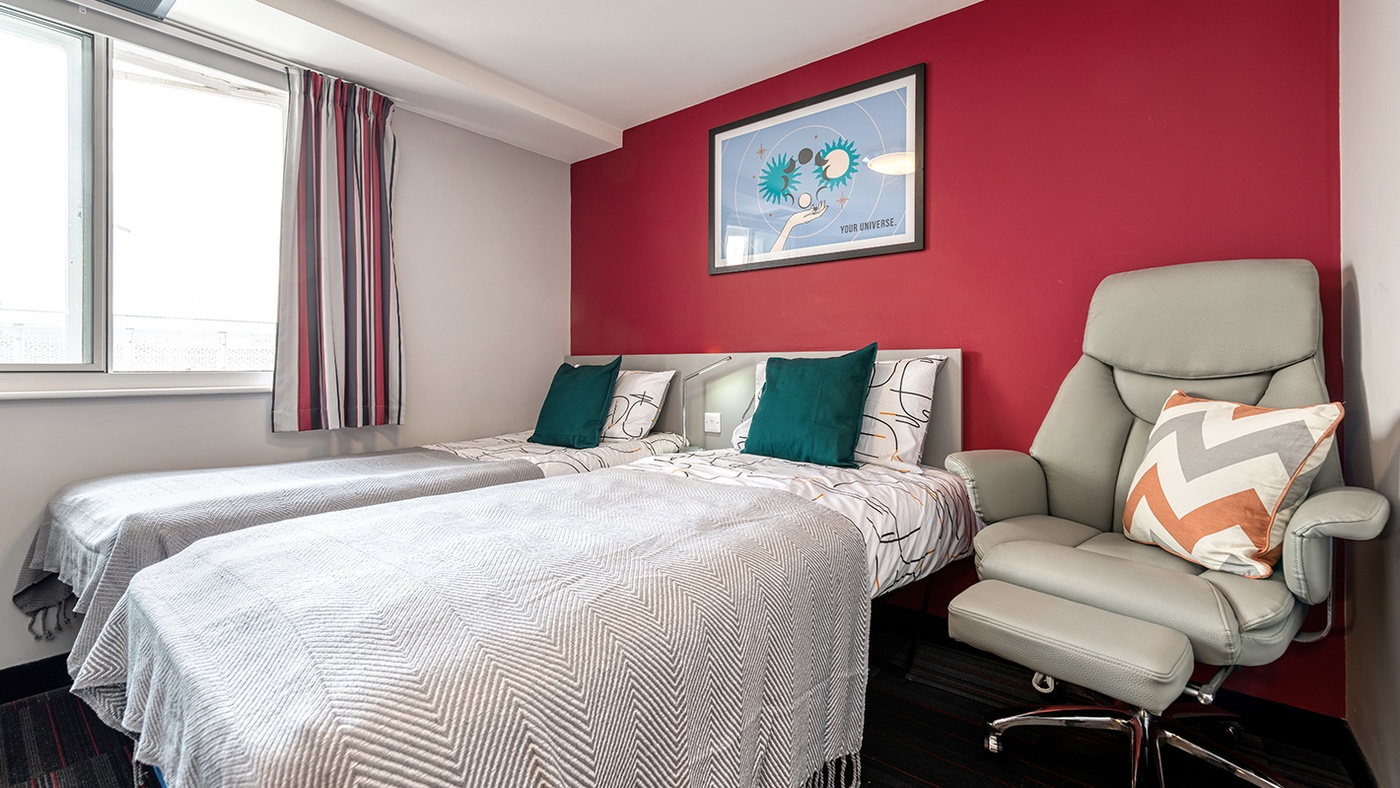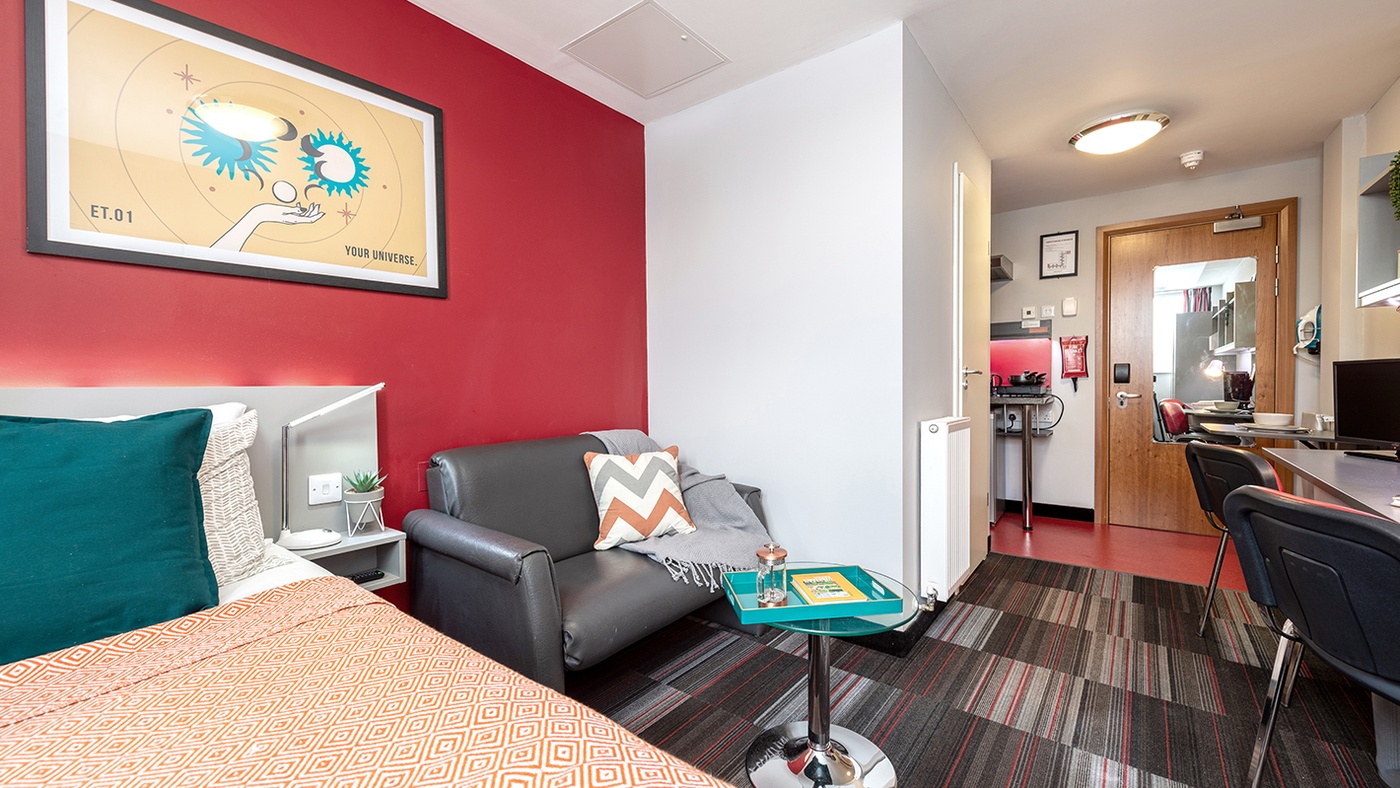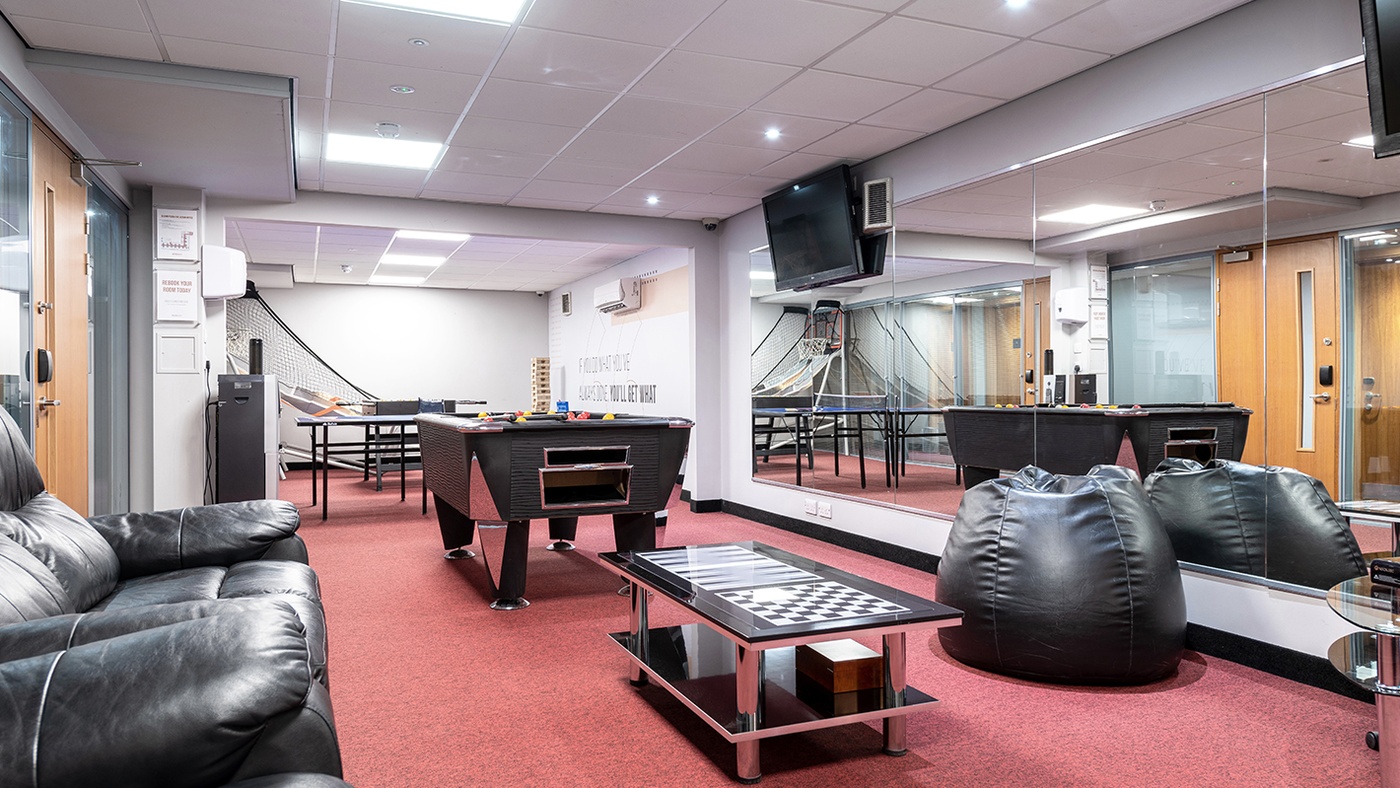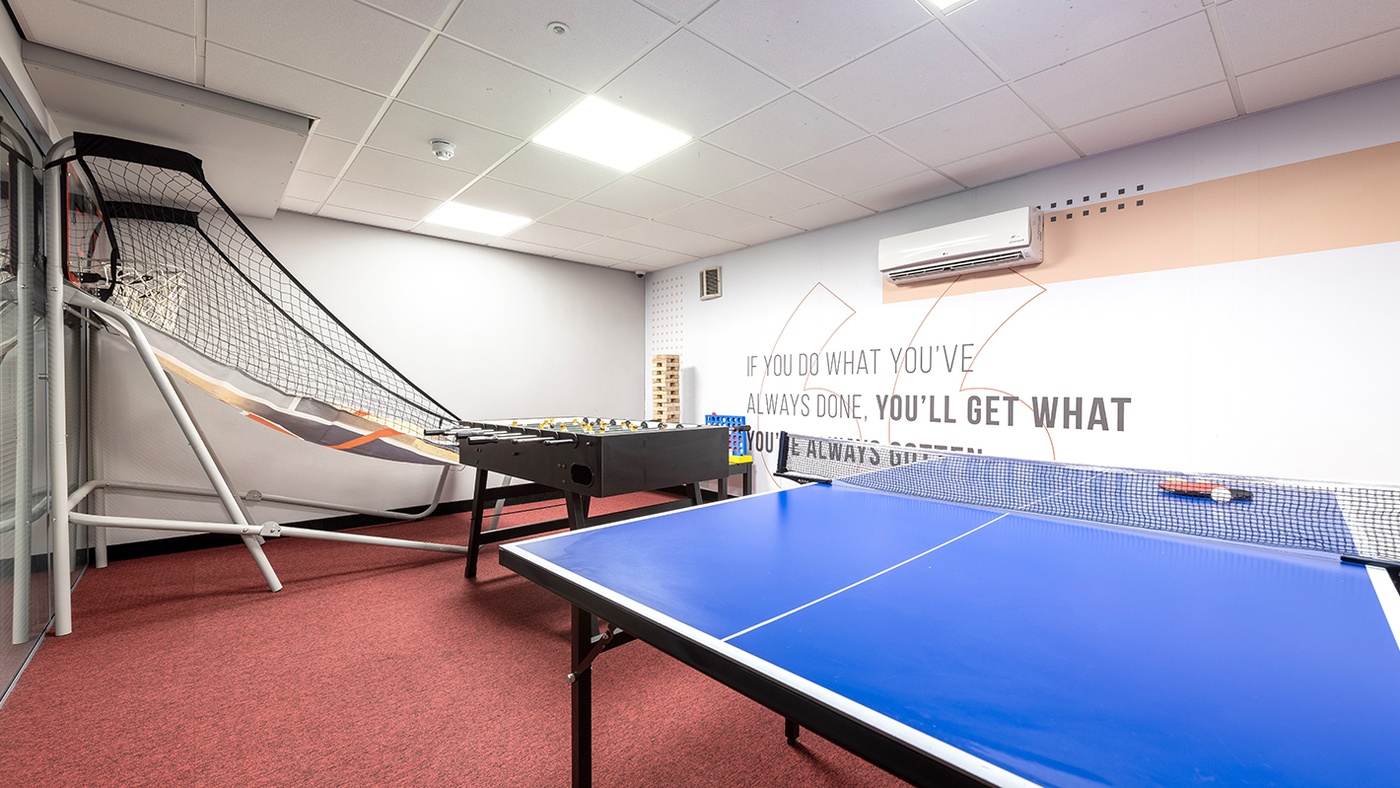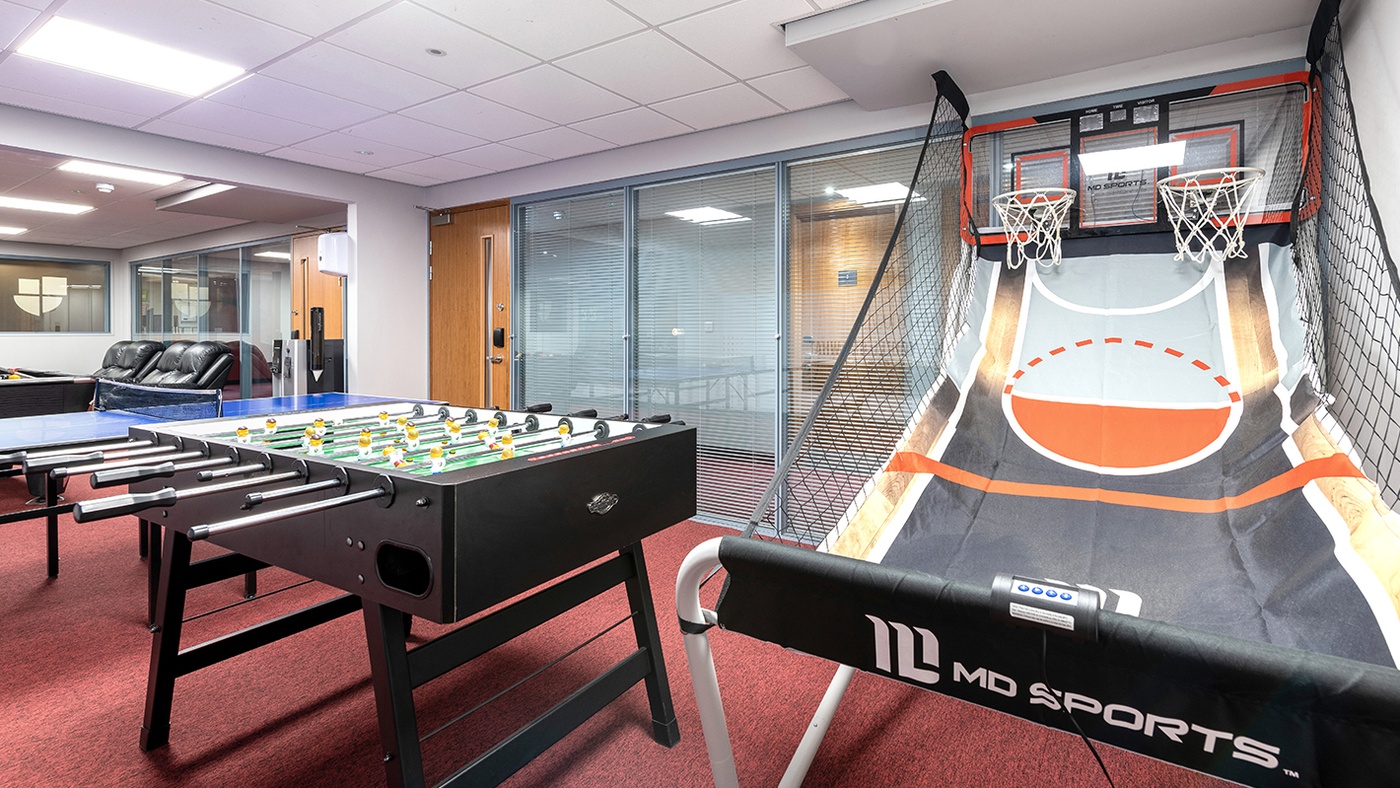 The Moor
The Moor by Universe.City is ideally located on the doorstep of Sheffield's main shopping street and the popular 'Moor Market'. With great transport links and within walking distance to both University of Sheffield and Sheffield Hallam University, this is student living at its finest.
Residents at The Moor will also be spoilt for choice with over 100 rooms to choose from, including shared apartments to live with friends. Whatever your choice, all of our rooms are designed and packed with everything you need – and things you didn't realise you needed. With all-inclusive rents and access to great features, you're sure to enjoy your University years in style at The Moor.
Student Accommodation in Sheffield
We want you to have the best possible start to your time in university at Sheffield. That's why Collegiate offers luxurious and stylish student flats fitted with all the amenities you could need, in a great location near the main Sheffield high street. And with an-inclusive weekly rent, you can focus on studying, socialising and exploring.
Our team at The Moor by Universe.City will always be on hand to give you a warm welcome and are happy to help you get to know your new home. You'll also find plenty of information on our blog with top tips, guidance and advice on everything Sheffield has to offer students.