10 Best Pizzas in Birmingham
The food scene in Birmingham is positively buzzing with exciting places for you to try. If you've just joined the 65,000 students that also call Birmingham home, you're sure to be excited to start exploring them all. After all, finding new favourites is one of the best things about moving to a new city.
Even better, if you're staying at our student accommodation in Birmingham you get to enjoy a prime location in the heart of the city, just a short walk away from Aston and Birmingham City University. Which means all the best bars, restaurants, green spaces and cultural hotspots are well within your reach.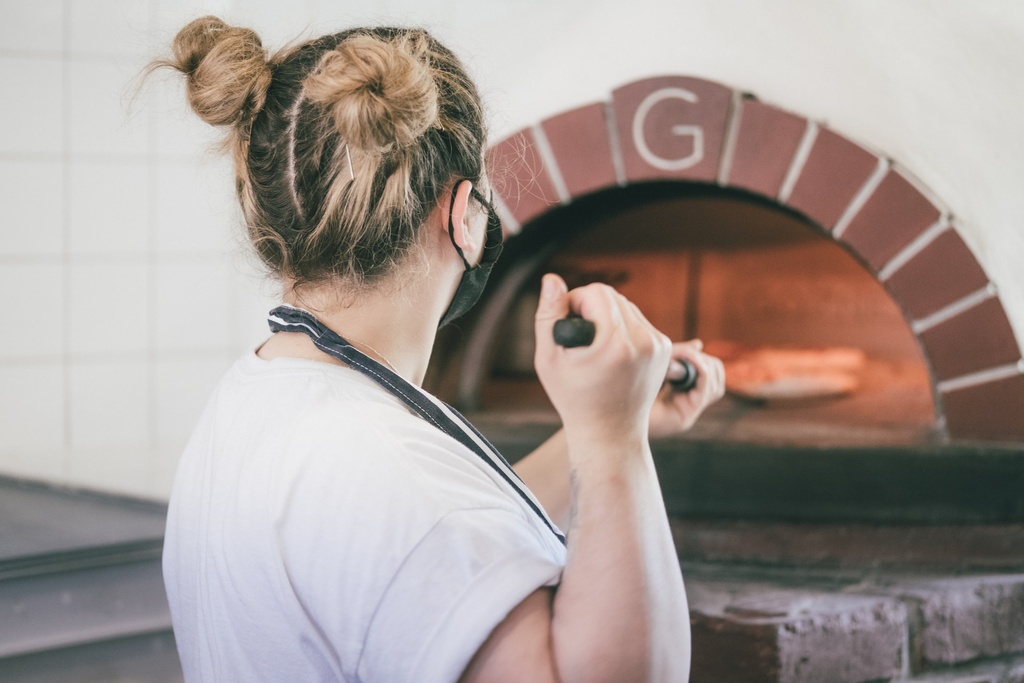 To help you get started on getting to know some of your local restaurants, we've put together a guide on the best pizzas in Birmingham. Always a crowd pleaser, pizza is a great option for a group gathering, a quick lunch or after a great night out at one of the many student nights in Birmingham you're bound to enjoy while you're studying there.
Whether you like pizza to be totally authentic or don't mind something a little different, you're sure to find your new go-to spot in no time.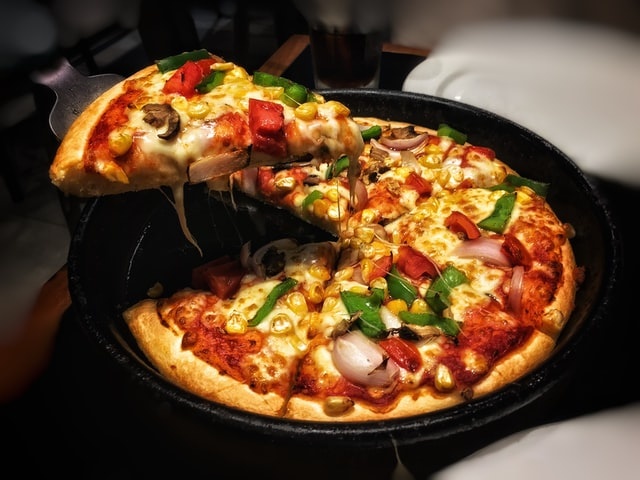 Rudy's, Bennetts Hill
If you're looking for the best traditional Neapolitan pizza in Birmingham, look no further than Rudy's. Whether you're sitting in or decide to get delivery, you'll find an impressive choice of starters including burrata and caprese salad, as well as a wide range of classic toppings on authentic thin base pizzas. So authentic to Naples in fact, they don't offer a gluten-free base although they note on their website that it's slow rise dough which is easier to digest for those with mild intolerances. Vegetarians and vegans are also well catered for with rotating specials and Rudy's classic Vegan Marinara always being a big hit.
Google rating: 4.6 (569 reviews)
Where: B2 5RS
How far: 20 minute walk
Open: Monday-Friday 12pm-10pm, Saturday 12pm-10:30pm, Sunday 12pm-9:30pm
Menu: View here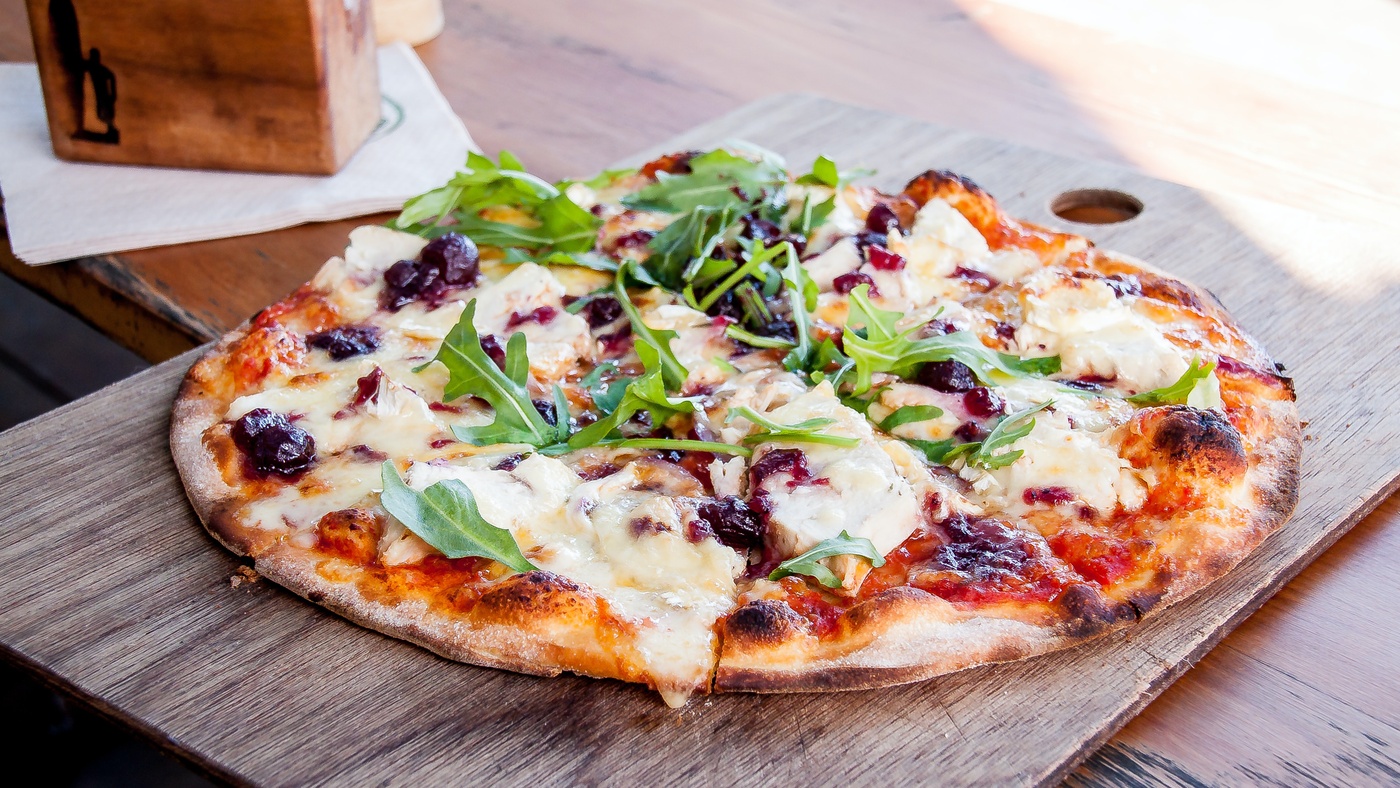 La Galleria, Ethel Street
When the sun is shining, there's nothing better than being able to eat outdoors – and a beautiful outdoor area is just one reason La Galleria should be high on your list for the best pizza in Birmingham. With a stunning wine bar and lush dining room, this family-run restaurant is in the heart of Birmingham and is just a leisurely walk from your Birmingham University accommodation. Handmade and truly authentic pizza and pasta, as well as fish and meat dishes are made with freshest ingredients and in a wood-fired oven imported from Italy. Get yourself a glass of something lovely and you're sure to have the most delightful afternoon.
Google rating: 4.6 stars (792 reviews)
Where: 5A Ethel Street, B2 4BG
How far: 20 minute walk
Open: Monday-Saturday 12am-10pm, Sunday 12am-9pm
Menu: View here
"Amazing, fresh Neapolitan pizza at a really good price."
– Rudy's Google Review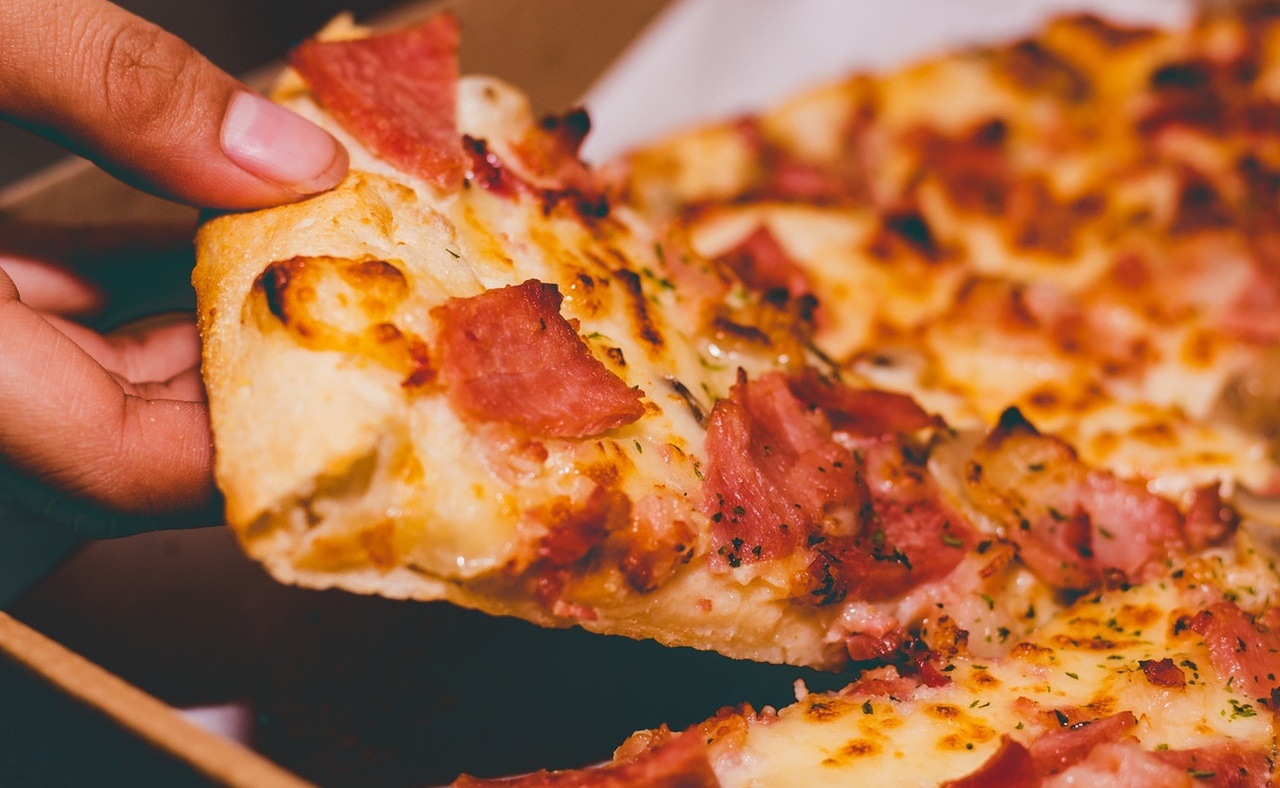 OTTO Pizza, Jewellery Quarter
In the heart of the Jewellery Quarter, you'll find some of the best pizza in Birmingham at OTTO. And we're not just being kind; it was actually voted best pizza in Birmingham in 2016 and one look at their menu will make it abundantly clear why. With many of the ingredients including jalapenos, pesto and ham made entirely on-site and mozzarella from Italy, you're in for the freshest pizza you can imagine. They're on Uber Eats but we think it's worth getting some mates together and booking a table so you can enjoy their selection of craft beers and wines too.
Google rating: 4.7 stars (617 reviews)
Where: 14 Caroline Street, B3 1TR
How far: 16 minute walk
Open: Wednesday-Friday 5pm-9pm, Saturday 12am-2:30pm & 5pm-9:30pm, Sunday 5pm-9pm
Menu: View here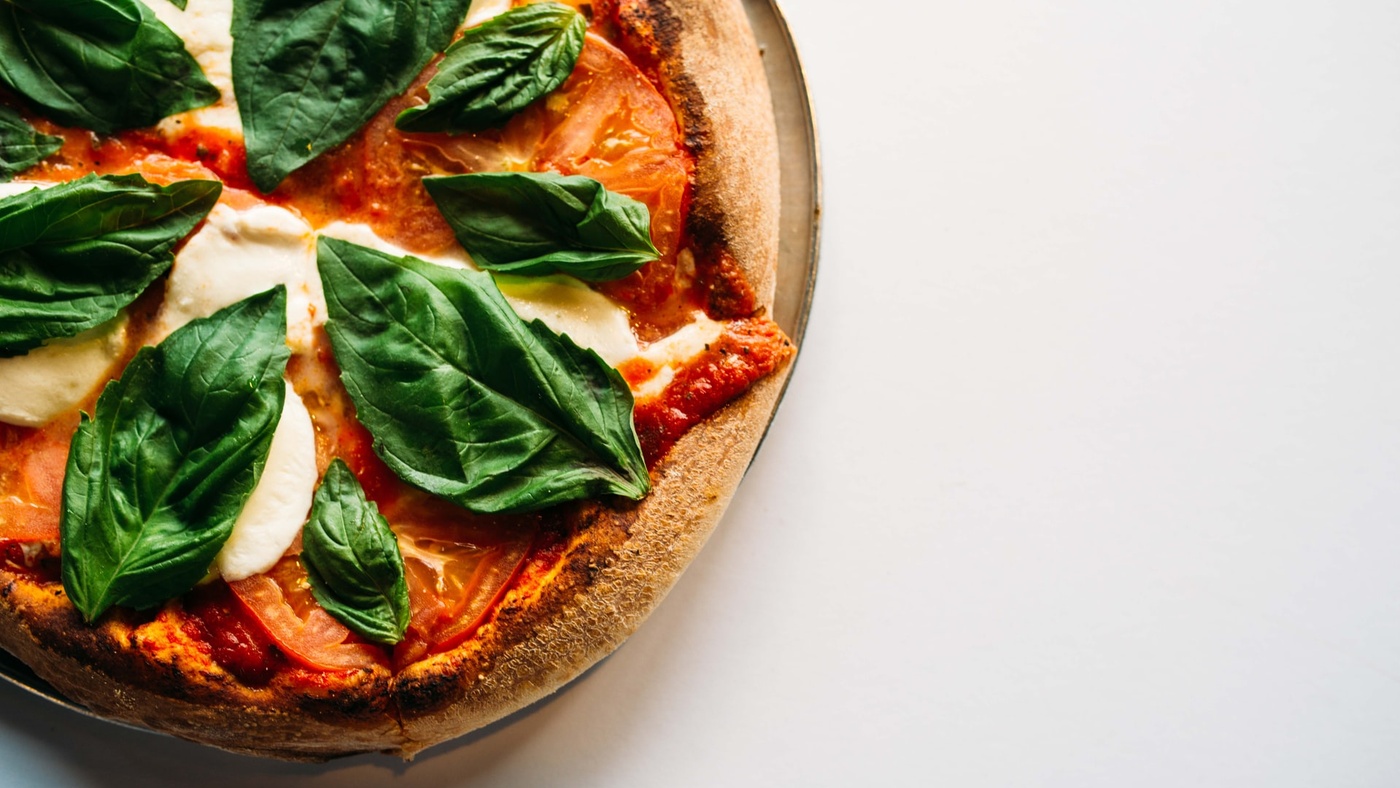 The Stable, John Bright Street
Italian pizza made with only the freshest British ingredients is exactly what you get at The Stable – the best place in Birmingham for craft beers and sourdough pizza. While the beers and pizza is what they're known for, The Stable also offers a menu filled with delicious starters, tater tots, salads and mac and cheese, so there really is something for everyone. Best of all, if you want one of their pizzas to be made plant-based, all you have to do is ask. It's worth noting you can't book outdoor tables but if the sun is shining you might be able to bag one.
Google rating: 4.3 (1276 reviews)
Where: B1 1BE
How far: 22 minute walk
Open: Monday-Sunday: 11.30am – 11pm
Menu: View here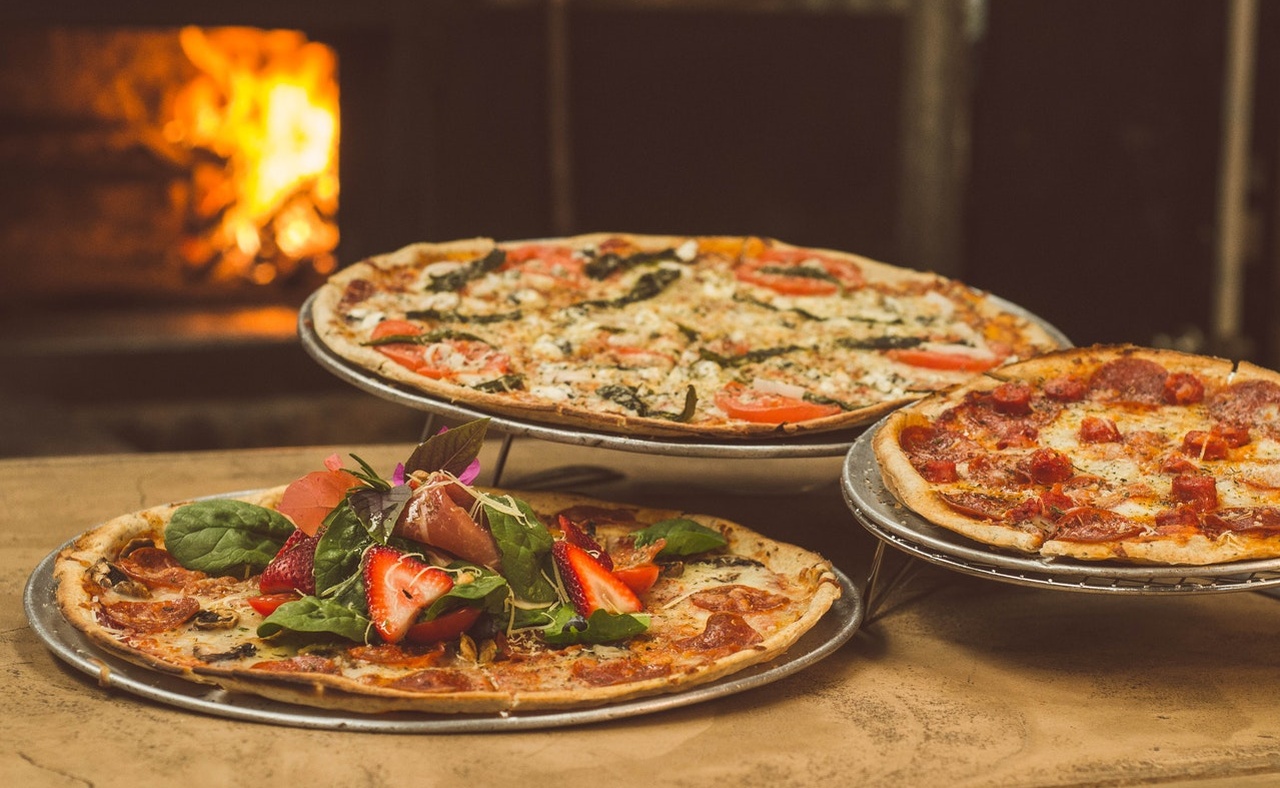 @pizza, Grand Central
Whether you're dashing off to catch a train or coming back to uni after a trip away, if you want a pizza freshly cooked in front of you in just 90 seconds, @pizza is where you need to be. With a choice of over 50 toppings, you can create a pizza exactly to your liking which is then blasted in a hot oven so you know it's as fresh as can be. You can also sit in at their location in Grand Central, which makes it ideal if you're heading into town before exploring some of the best student nights in Birmingham.
Google rating: 4.7 stars (516 reviews)
Where: Unit 33, Grand Central, B2 4BF
How far: 18 minute walk
Open: Monday-Thursday 12am-9pm, Saturday 12am-10pm, Sunday 12am-9pm
Menu: View here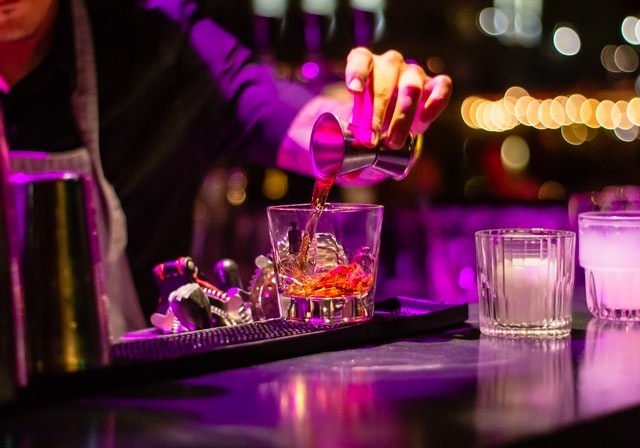 La Vera, Martineau Place
La Vera is one of the best places to go for wood fired pizza in Birmingham, but also for their Middle-Eastern inspired side dishes and mains including halal meat koftas, hummus and mixed grills. The choice of toppings you can have on your pizza is ultra classic from pepperoni and margarita to italian sausage and chicken, all stone baked in an authentic wood-fired oven. It's the perfect spot for a relaxed and casual dinner with a group of friends as there's plenty of room for large bookings and the prices are super reasonable.
Google rating: 4.4 (529 reviews)
Where: B2 4UB
How far: 16 minute walk
Open: Monday-Saturday: 11am-8:30pm, Sunday 11am-7:30pm
Menu: View here
"Great original stone oven baked pizza! Definitely worth a try if you're in the area."
– La Vera Google Review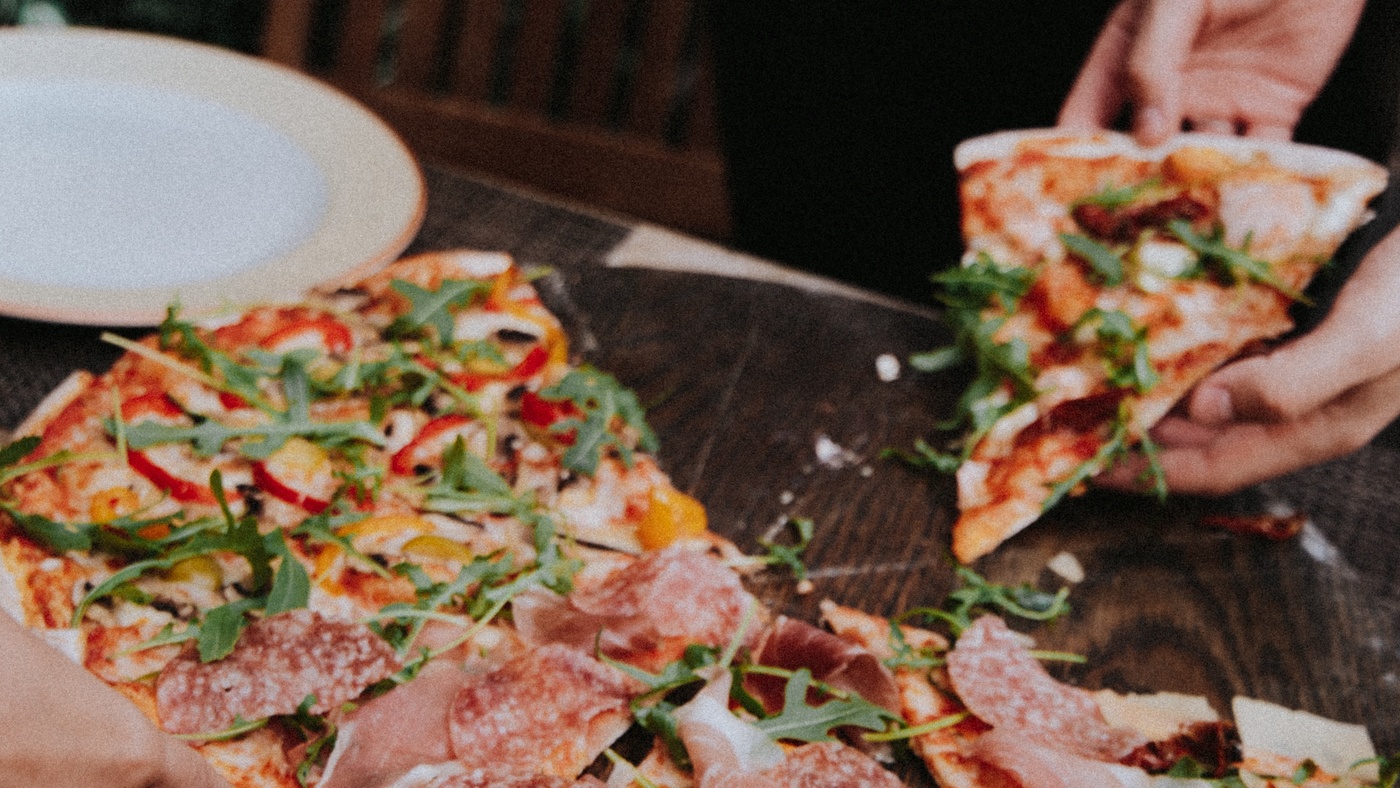 Franco Manca, Bennetts Hills
With all of their sourdough bases made fresh on-site every day, boasting quality ingredients and toppings, as well as specials changing daily, Franco Manca is a must-visit for pizza in Birmingham. Prices start from just £5.55 so it's the ultimate find for a student budget-friendly pizza. You can sit in, click and collect or have it delivered to enjoy from the comfort of your student flat. Franco Manca isn't currently taking bookings so you may have to wait for a table, but we think it will be worth it!
Google rating: 4.4 (561 reviews)
Where: B2 5QJ
How far: 20 minute walk
Open: Monday-Thursday: 11:30am-9:30pm, Friday-Saturday: 11:30am-10pm, Sunday: 11:30am-9:30pm
Menu: View here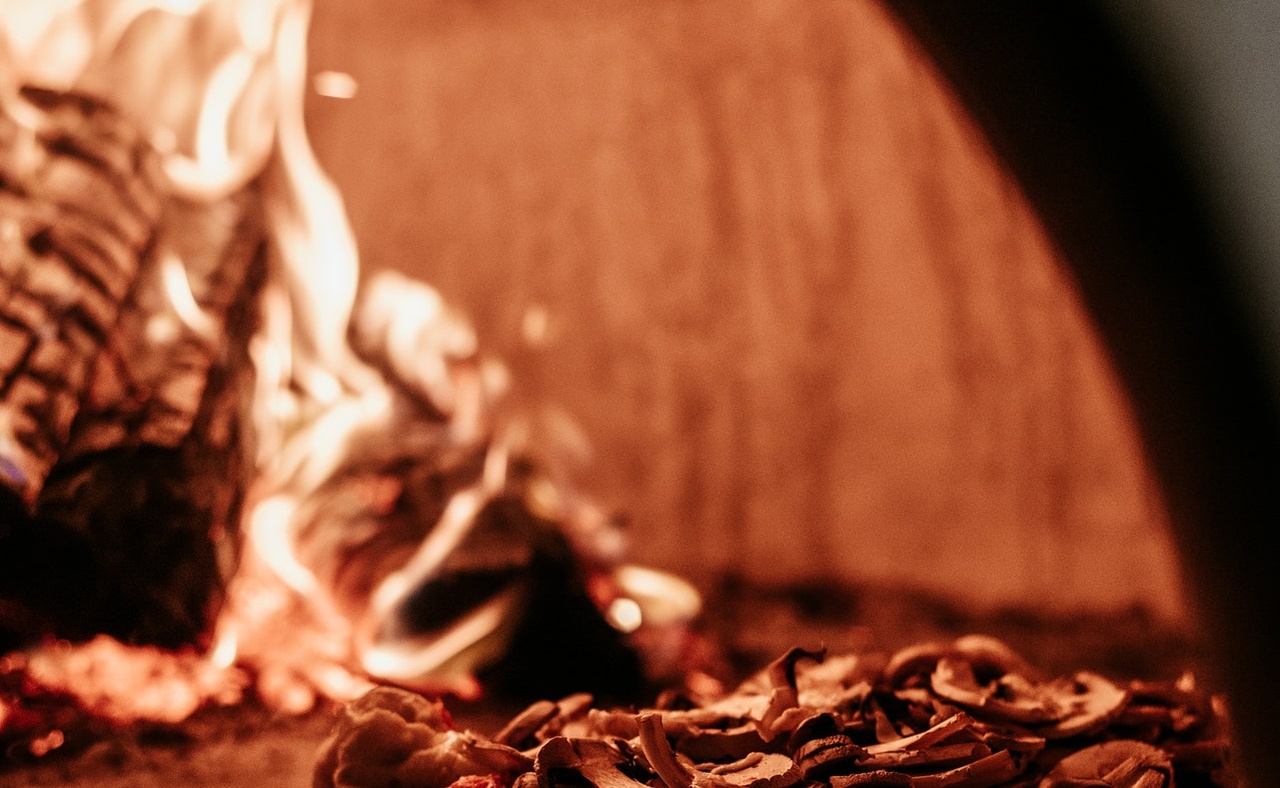 Peacer, Woodbridge Road
Over in nearby Moseley, you'll find some little slices of heaven from Peacer. This unique spot offers freshly made pizzas sold by the slice, just like the kind made famous on the streets of New York City. The slices are nice and generous as you'd expect, but if you fancy something a little extra, Peacer offers a small menu of sides including a range of fries and salads. The dessert menu is definitely worth a look, or rather their daily special cheesecake bowl is worth a try so make sure you save some room!
Google rating: 4.9 stars (253 reviews)
Where: 4 Woodbridge Road, Moseley, B13 8EJ
How far: 15 minute drive
Open: Wednesday-Thursday 3pm-9pm, Friday & Saturday 12am-10pm, Sunday 12am-9pm
Menu: View here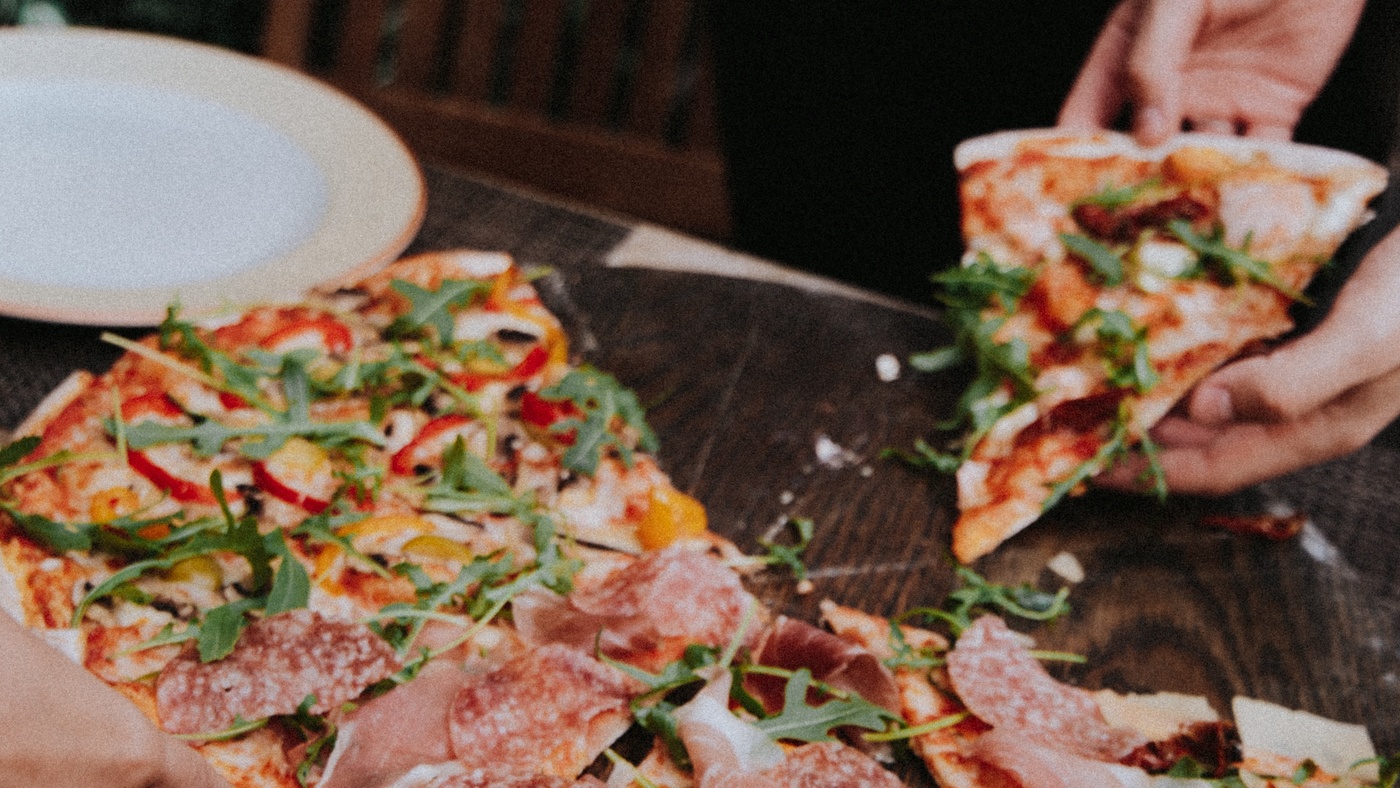 Alicia's Micro Bakehouse, Pershore Road
If you're after wood-fired, artisan pizza in Birmingham then it's definitely making the trip over to Stirchley to visit Alicia's Micro Bakehouse. The menu is small yet perfectly formed but it's worth noting that additional toppings start from just £1.50 so you can make your pizza your own. With starters including burrata, arancini and antipasti, you'll definitely want to get some of those in as well. If you fancy getting out of the city for a bit, this is the place to go!
Google rating: 4.7 stars (319 reviews)
Where: 1377 Pershore Road, Stirchley, B30 2JR
How far: 20 minute drive
Open: Tuesday-Friday 5pm-9:30pm, Saturday 1pm-9:30pm
Book a table: Here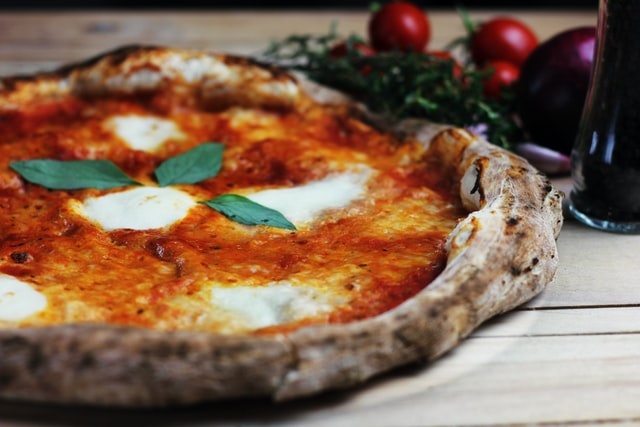 Baked in Brick, Digbeth
Baked in Brick could easily be classed as one of the best places for pizza in Birmingham as it's literally won awards for its unique pizza and street food offering. Choose from a small but perfectly formed menu of traditional pizzas with signature toppings and plenty of vegetarian and vegan options. You can also enjoy a little extra on the side with a delicious choice of small plates that include halloumi fries and cheesy garlic bread, as well as a selection of loaded fries. You'll find Baked in Brick in the heart of Digbeth in the Custard Factory, which is filled with amazing places to see and fun things to do in Birmingham.
Google rating: 4.4 (313 reviews)
Where: B9 4AA
How far: 31 minute walk
Open: Thursday–Saturday: 12pm–10:30pm, Sunday: 12pm–6pm
Menu: View here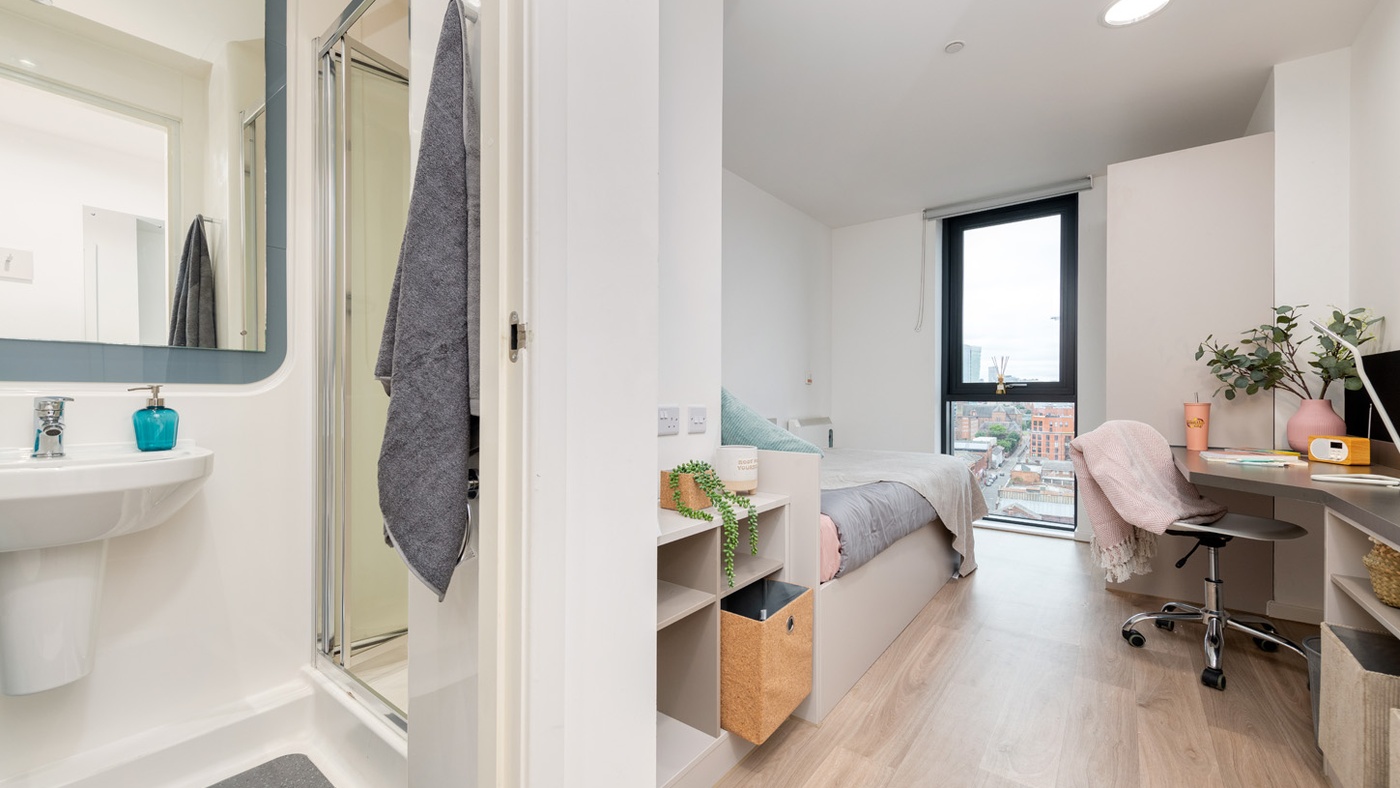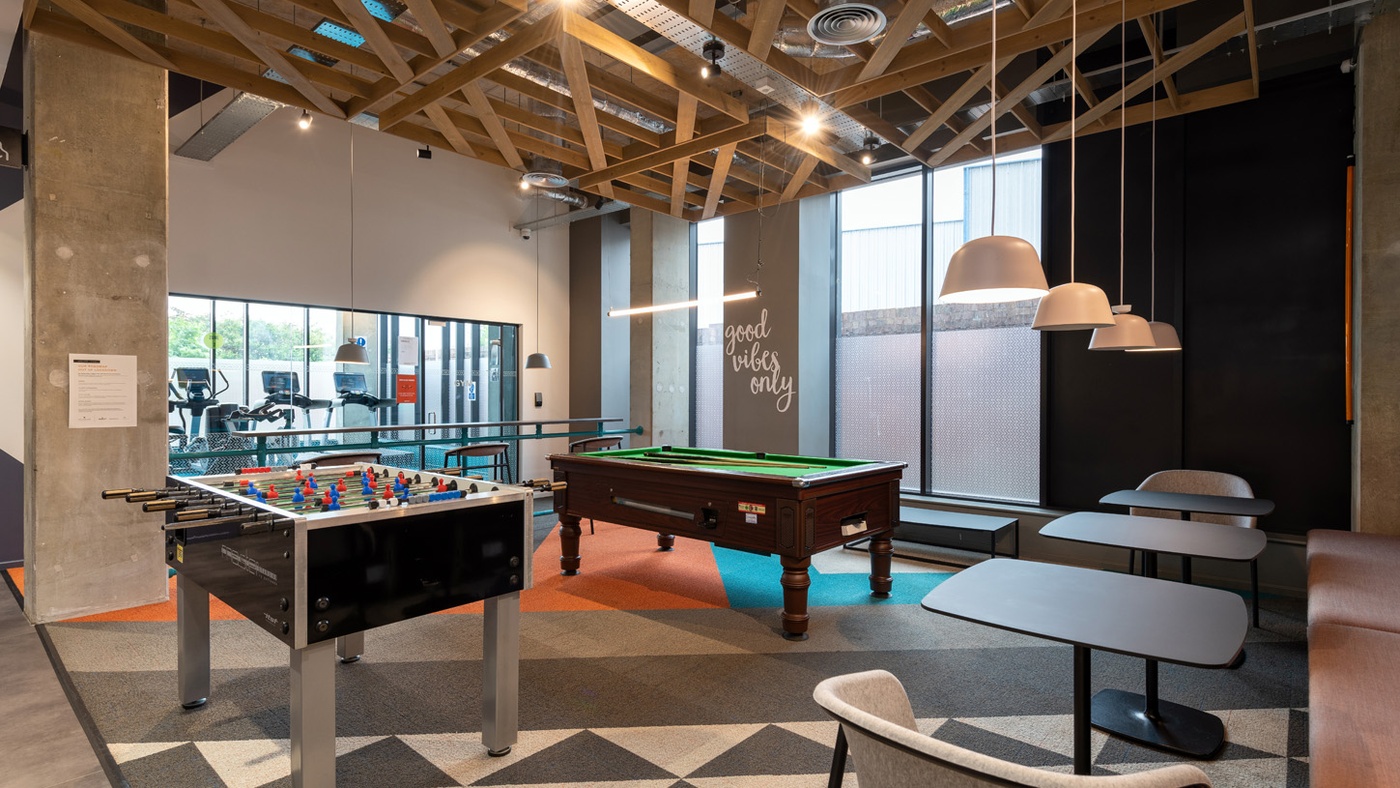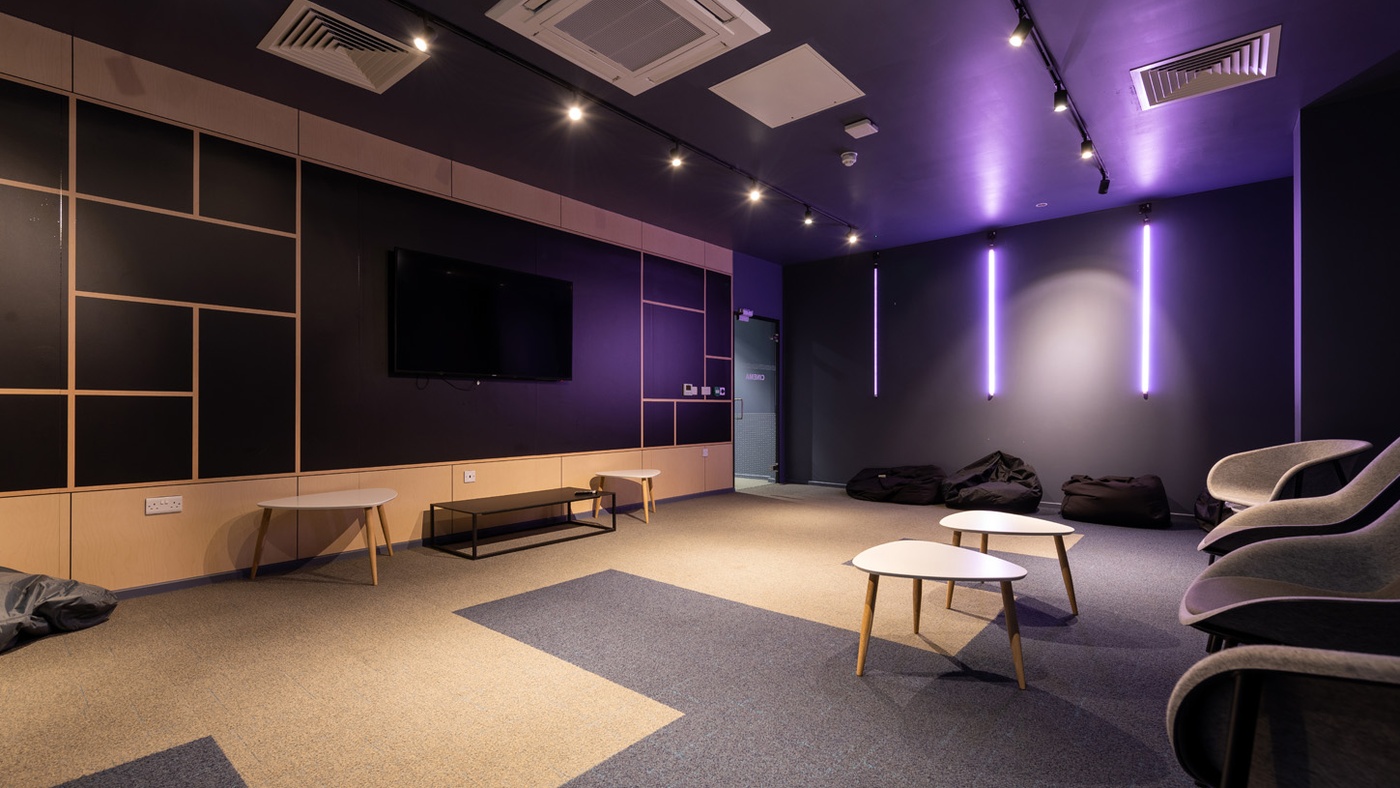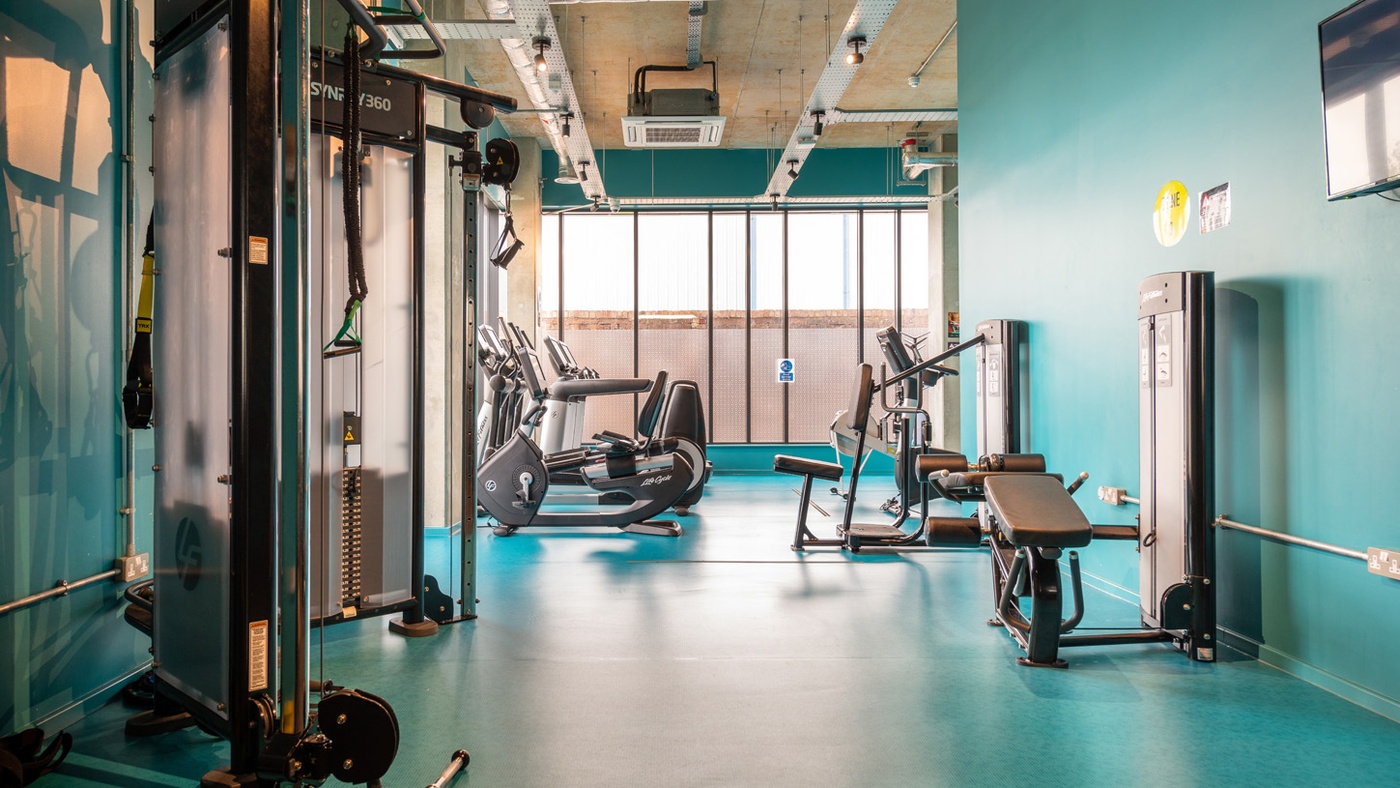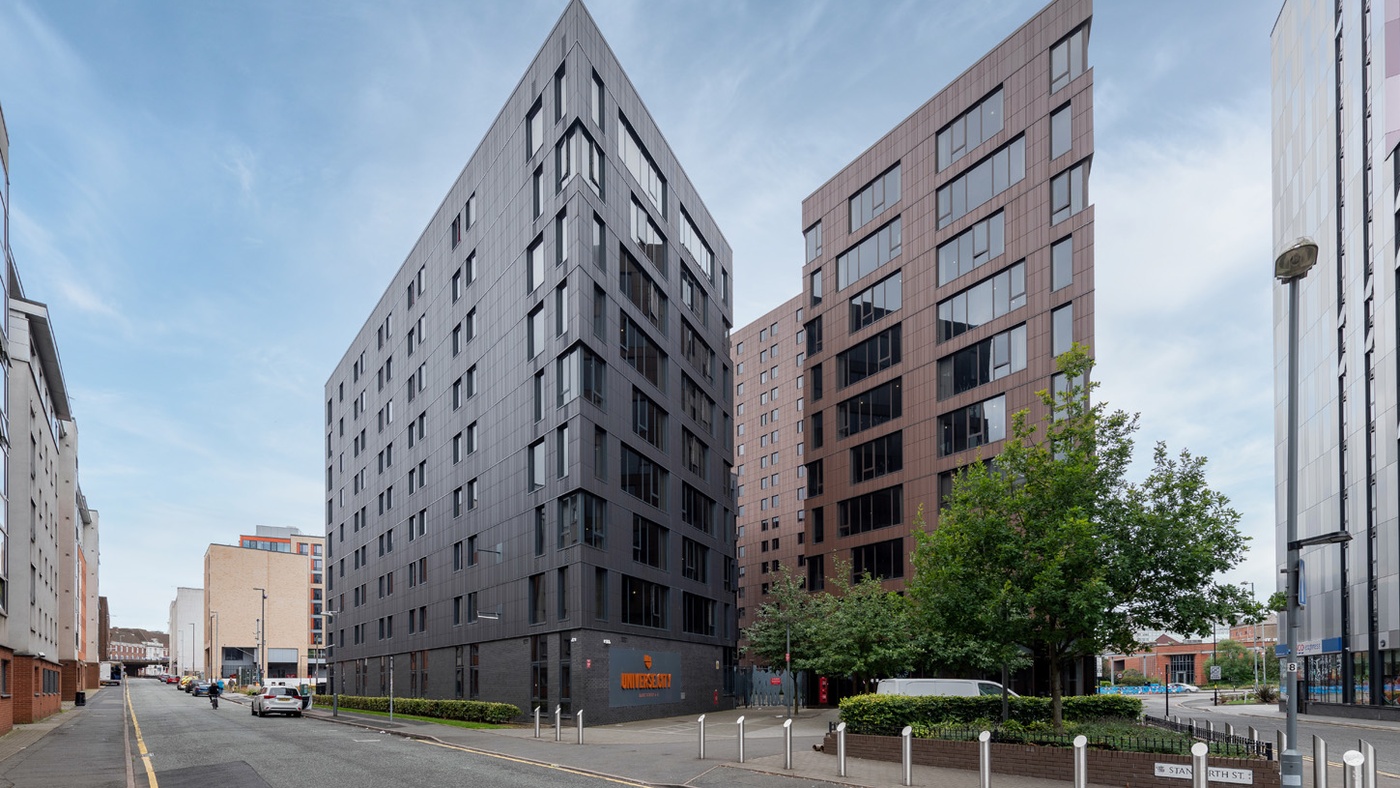 Bagot Street
Our Bagot Street accommodation is just a short walk from Aston University and Birmingham City University. Fancy exploring the city? Bagot Street is in a prime location, surrounded by a number of attractions, bars and must-try restaurants.
When it comes to staying home, our social spaces offer a relaxing, safe space to unwind with friends. The cinema and games room are hot spots in the property and can be accessed 24 hours a day.
Student Accommodation in Birmingham
When you're done exploring the brilliant city of Birmingham for the day, you'll want somewhere welcoming and comfortable to get back to hitting the books or to take a well-earned break. If you're looking for student accommodation in Birmingham, look no further than Collegiate. Our Bagot Street accommodation puts you in the heart of everything Birmingham has to offer. Whether you decide on an en-suite room in a shared apartment or your own private studio, you always benefit from a wide range of amenities and exclusive use of private facilities such as an on-site cinema room and gym. With a host of stylish social spaces as well as quiet study spots, you'll always have somewhere to go. All bills and WiFi are included in your weekly rent as standard – it's all part of our commitment to first-class living for students in some of the best cities in the UK.