The best of boozy brunch in Hackney
Voted by Vogue as one of the coolest neighbourhoods in the world, Hackney is a vibrant and diverse community in East London that in recent years has become immensely popular with young professionals. Hackney is rich with culture, creativity, quirky bars and restaurants, and also home to big names like William Shakespeare, Alfred Hitchcock and Idris Elba.
When it comes to places to eat, there's almost too much to choose from. Firstly, Hackney is home to so many great neighbourhoods, including Dalston, Hoxton and Shoreditch. Within these neighbourhoods is everything from Michelin-starred restaurants like Clove Club, trendy eateries such as Barge East, and some of the best street food stalls in London. To top it off, there is an abundance of bottomless brunch options easily accessible from your student accommodation in London, take a look at some of our favourites.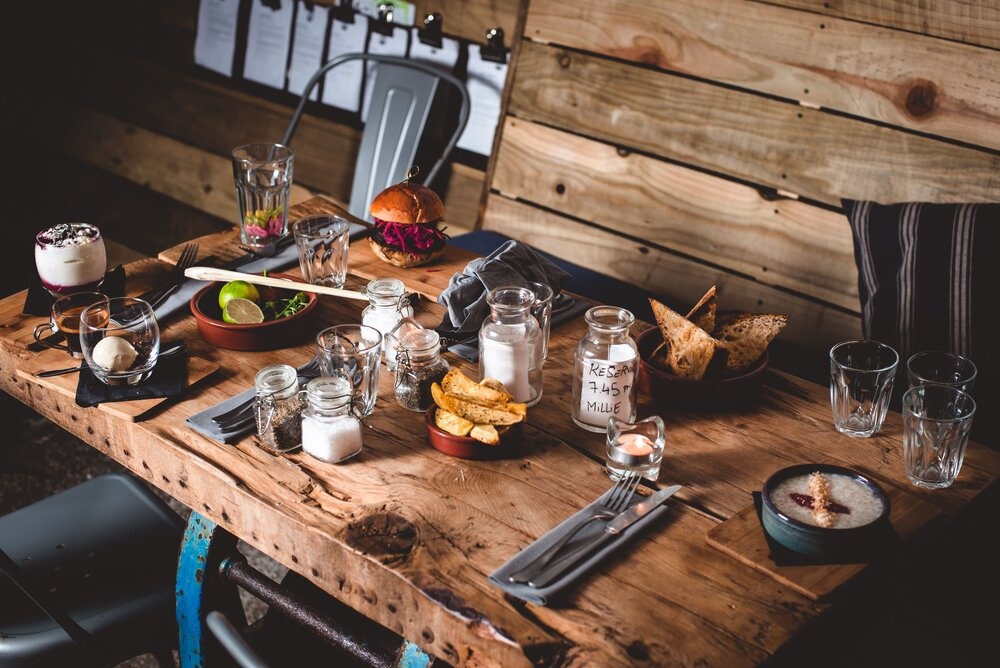 Barge East
Having only launched in 2018, Barge East has become one of the most popular spots in London. Not only is the restaurant built on a century-old Dutch barge moored in Hackney Wick overlooking London's skyline, but is home to some outstanding food. This unique bar & restaurant has teamed up with local businesses and uses home grown produce to ensure their modern, British menu is 'fresh and full of flavour', offering a fine dining and alternative experience, with 2 course weekend meals ranging from around £25-35pp. Go bottomless for an extra £20pp for 1.5 hours of unlimited Prosecco or bloody Mary's and you can even privately hire the captain's cabin free of charge for up to 10 people. With so much to offer on board, it's no wonder Barge East has been awarded London's best rated restaurant on TripAdvisor for 2019/2020.
Price: Food from £25pp with bubbly or bloody Mary's for only £20pp extra.
When: Monday – Friday: 4pm – 10pm, Saturday: 12pm – 10pm, Sunday: 12pm – 7:30pm
Google Star Rating: 4.6 stars
Address: River Lee, Sweetwater Mooring, White Post Ln, Hackney Wick, E9 5EN
Book a table: Here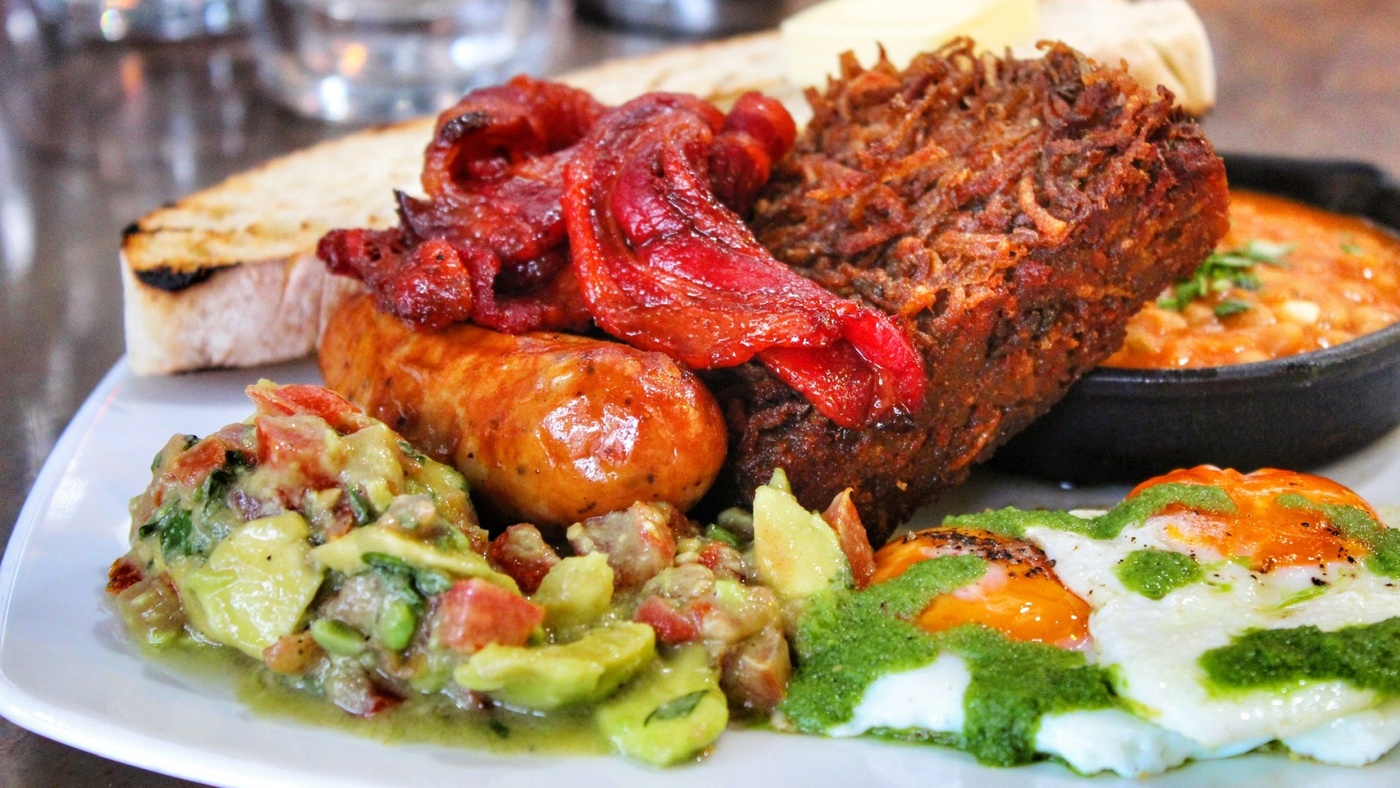 Rapsa @ 100 Hoxton
If you prefer something a little more spicy and packed with flavour, Rapsa is an exquisite Filipino-fusion restaurant residing at the infamous local hotspot, 100 Hoxton. Chef Francis Puyat has created a revolving Pan Asian menu and with their brunch option, he's combined some classic dishes with amazing flavours from his native Philippines, including Longsilog; tocino sausage, garlic fried rice, fried eggs and atchara papaya pickle. Over 100 minutes you'll get bottomless Aperol Spritz, Processo or slushies for £25 with any brunch item for just £7 – it's a no brainer.
Price: £32pp
When: Saturday's 11am – 4pm, Sunday's 11am – 3pm
Google Star Rating: 4.5 stars
Address: 100-102 Hoxton St, Hackney, N1 6SG
Book a table: Here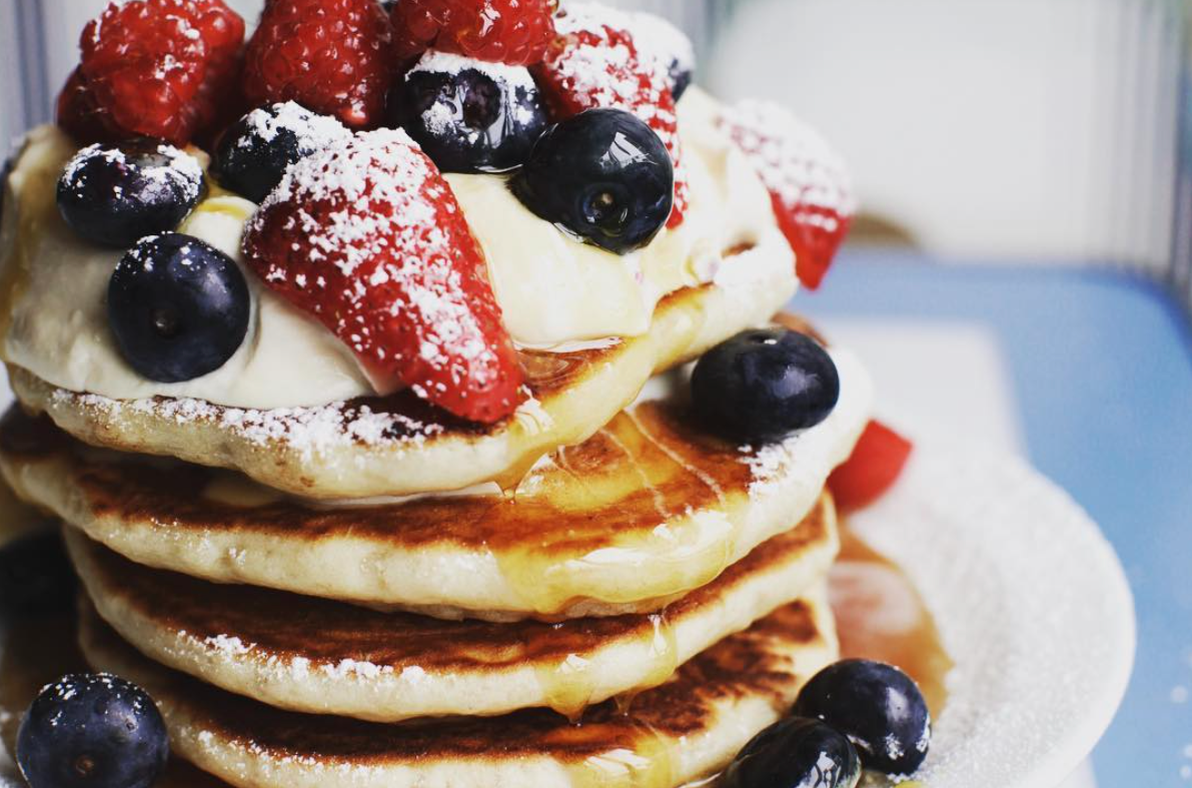 The Mayor of Scaredy Cat Town
The Breakfast Club is a well known chain around London, serving classic breakfast, lunch and dinner dishes. Lesser known though, is the secret speakeasy at their Spitalfields Caf, The Mayor of Scaredy Cat Town, hidden behind a huge SMEG fridge and hosting bottomless brunch every Saturday & Sunday. To enter, you'll need to inform a member of staff that you're 'here to see the Mayor' and they'll direct you to the fridge you'll walk through to find an array of vintage furniture and eccentric wall art. The drinks menu is also full of strange but wonderful cocktails, craft beer and wine and the food menu is even more eclectic, with everything from a fancy cheese board to dirty loaded fries to choose from. A fun and different experience to try with your friends. Bottomless brunch includes any Breakfast Club dish and 2 hours of unlimited Bellini's, Bloody Mary's & a cocktail option.
Price: £40pp
When: Weekends 12pm – 10pm
Google Star Rating: 4.5 stars
Address: 12-16 Artillery Lane, E1 7LS
Book a table:  Here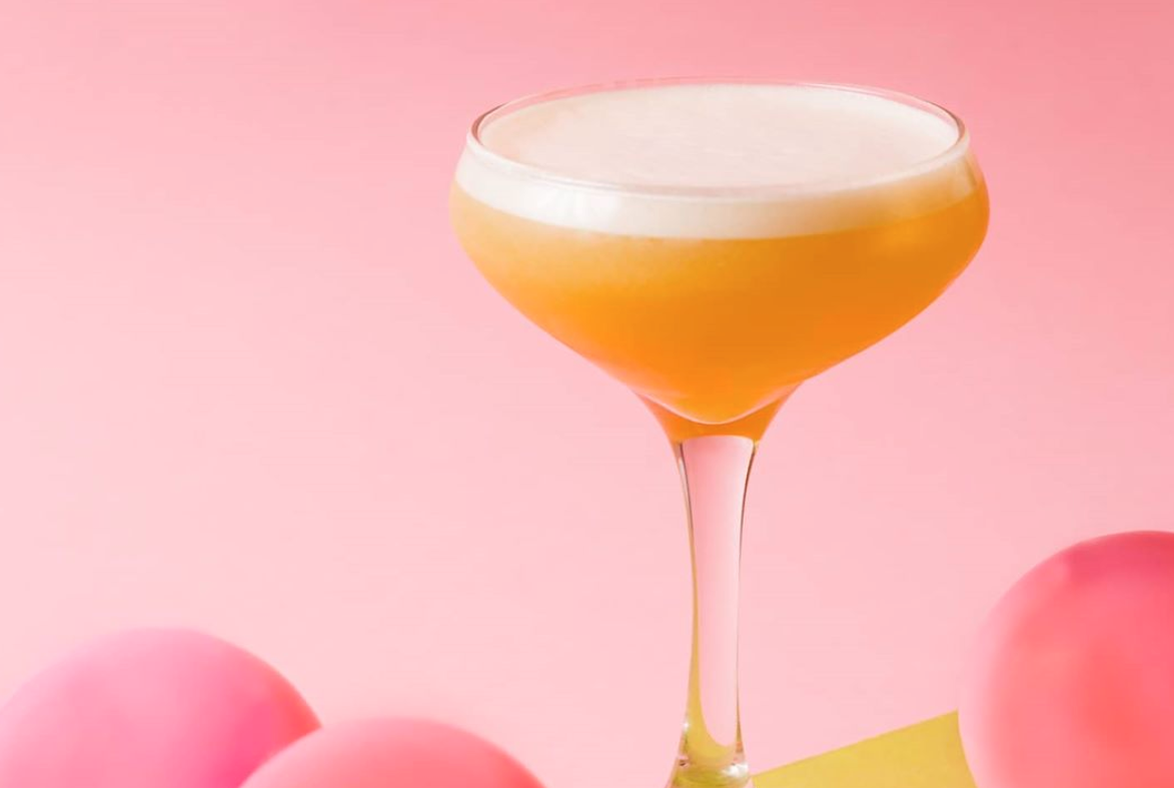 Ballie Ballerson
With good vibes, great music, free flowing food and drinks, and fun in the ball pits, Ballie Ballerson bottomless brunch ticks all our boxes. The VIP Baller Brunch includes 2 hours of the best music, the first 90 minutes include unlimited pornstar martinis, fizz and pizza (all dietary requirements can be catered for), seating in the VIP area for up to 6 guests, plus allocated access to their ball pits. This option is recommended when celebrating an occasion, even if that occasion is just leaving the house for the first time in 2 weeks. With the High Top Baller brunch you can sit in the main bar area (where it's quicker to get served) at their high top tables in a group of 2-5 with 90 minutes of unlimited Pornstars/bubbles and pizza. All they ask is you bring your best dance moves.
Price: from £30pp
When: Thursday's – Sunday's. Various times available – ticket booking required in advance
Google Star Rating: 4.5 stars
Address: 97-113 Curtain Rd, Hackney, EC2A 3BS
Book a table: Here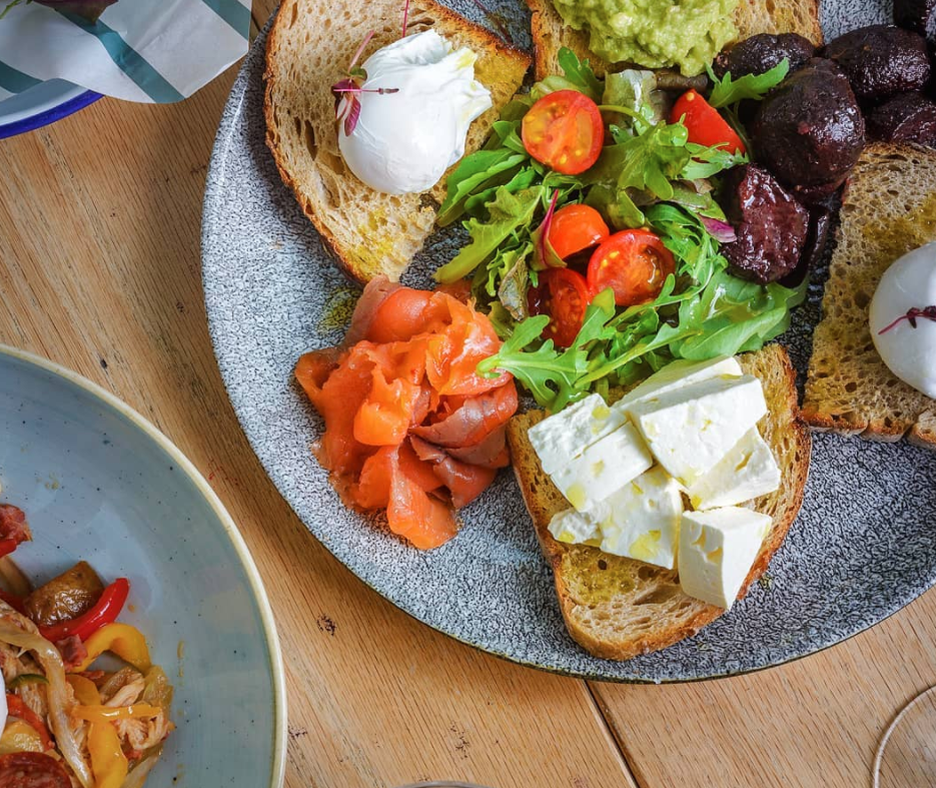 The Vincent
The Vincent is a quirky local cafe/restaurant, in their own words, 'doing the simple things well', a stone's throw from Hackney Downs Station. Surrounded by floor to ceiling windows, The Vincent is laid back and modern, flooded with natural light and the added benefit of an outdoor terrace. Having teamed up with local businesses, their coffee is roasted in Hackney Wick by The Roasting Shed, teas are from Joe's Teas and they provide 40 of their favourite London brewers' craft beers and ciders, on draught and in a bottle. They also have a range of fun cocktails using homemade ingredients. Their reasonably priced brunch menu has an extensive choice of options, with everything from US style waffles, to shakshuka and vegeree (a vegan alternative to kedgeree which swaps fish for sweet potato and halloumi). Go bottomless with unlimited Prosecco or mimosas for only £17 for 1.5 hours, increasing to just £20 for 2 hours – an absolute steal.
Price: £17 for 1.5 hours, £20 for 2 hours
When: All week
Google Star Rating: 4.4 stars
Address: 2 Atkins Square, Dalston Lane, E8 1FA
Book a table: Here
London Shuffle Club
Bottomless brunch and shuffleboard: a millennial right of passage meets a 16th century Tudor pastime – weird, we know, but it works. Back in the 1500's, Shuffleboard became so popular, people became addicted and stopped going to work, so it had to be banned. Fortunately, it's back… with bottomless brunch. Here you'll get 2 hours of unlimited prosecco or beer, free flowing Full English Breakfast pizza, and 55 minutes shuffleboarding. What's more, they're now offering bottomless brunch al fresco on their outdoor Shuffle terrace. Every group is allocated a seated table for their two-hour brunch, and with a fun group of 4-6 friends, it's the perfect activity for a Saturday or Sunday afternoon.
Price: from £35pp Saturday's, £30pp Sunday's
When: every Saturday 12-2pm or 2.30-4.30pm / Sundays 12pm – 2pm.
Google Star Rating: 4.3 stars
Address: 4 Ebor Street, Shoreditch, E1 6AW
Book a table: Here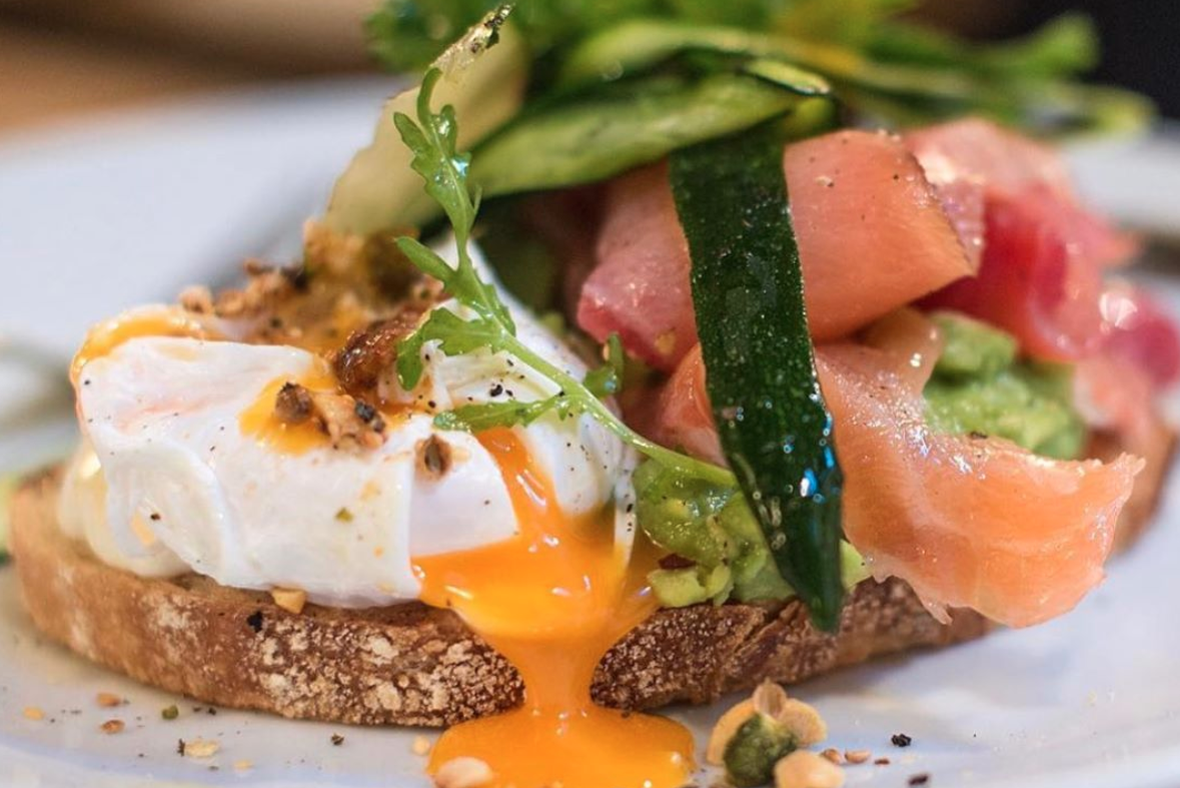 Lantana Cafe
Lantana is an Australian-inspired cafe in the heart of Shoreditch where you can enjoy unique house blend coffee, an infamous brunch menu, alternative cocktails options and homemade cakes. Lantana Cafe has a boujee weekend brunch menu with as many plant-based options as there are meat. They serve a range of appetising dishes including an avocado Poke bowl, duck hash, courgette & smoked cheddar bread with halloumi and Indonesian fried rice. If you're getting boozy, go for The Lantana Blowout – unlimited Prosecco or Mimosas with any brunch item for only £30pp.
Price: £30pp with any brunch item
When: Weekends from 9am – 4pm
Google Star Rating: 4.2 stars
Address: Unit 2, 1 Oliver's Yard, 55 City Rd, EC1Y 1HQ
Book a table: call 020 7253 5273 or visit website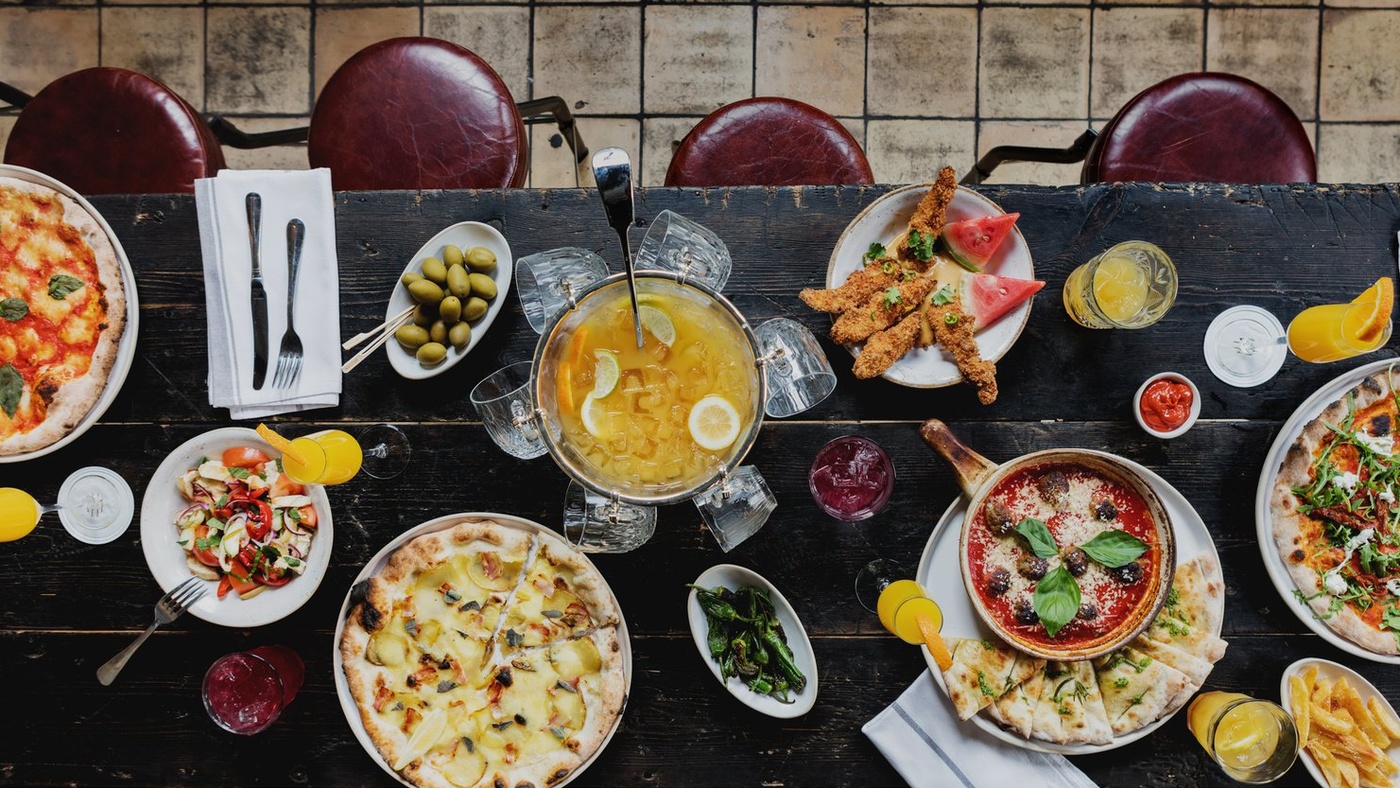 Martello Hall
Situated in a beautifully converted Victorian building, Martello Hall is a decadent and quirky cocktail bar & restaurant situated in Hackney. Martello Hall has an impressive brunch menu, with all food freshly made from scratch, this includes delicious pizzas made from 48 hour fermented dough cooked in a wood fired oven imported from Italy. For an additional £25, you'll get 2 hours of bottomless Mimosas, Frizzante or their delicious Martello Hall Rum Punch. The sister of Canova Hall and Cattivo in Brixton, Martello Hall is spread over three floors with different seating options including a banquet hall and a cocktail lounge with private roof terrace; the perfect place for a boozy brunch with friends.
Price: £26pp over two hours or upgrade to their boujee top tier range from £30pp.
When: Weekends from 10.30am till 6.30pm.
Google Star Rating: 3.8 stars
Address: 137 Mare St, Hackney, E8 3RH
Book a table: Here
We're on a mission to report back to our resident's the best bottomless brunch spots across the UK. With student accommodation across the UK's most vibrant cities, including London, Bristol and Liverpool – check out our recent summary of the best bottomless brunch spots in Dalston, or for a matter of fact, any of our other related student cities!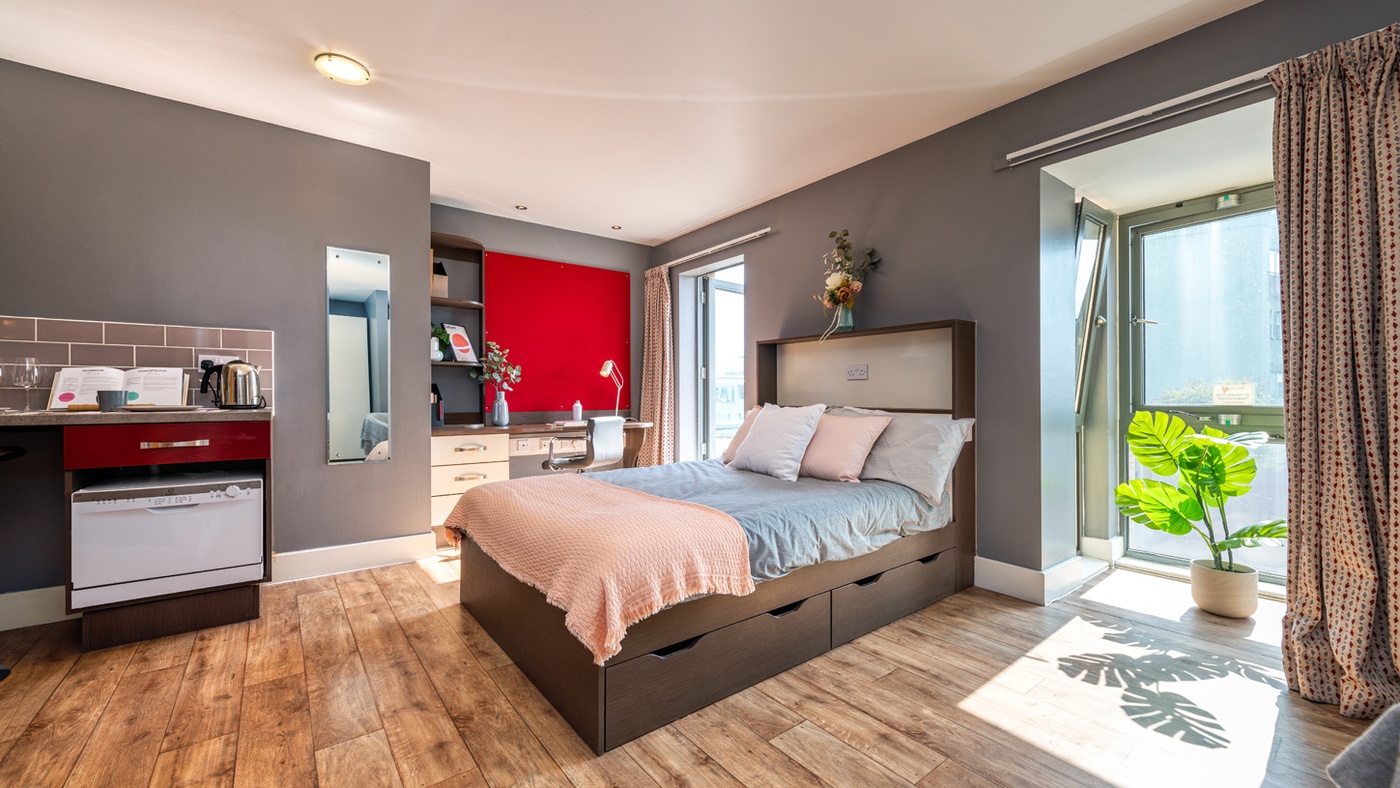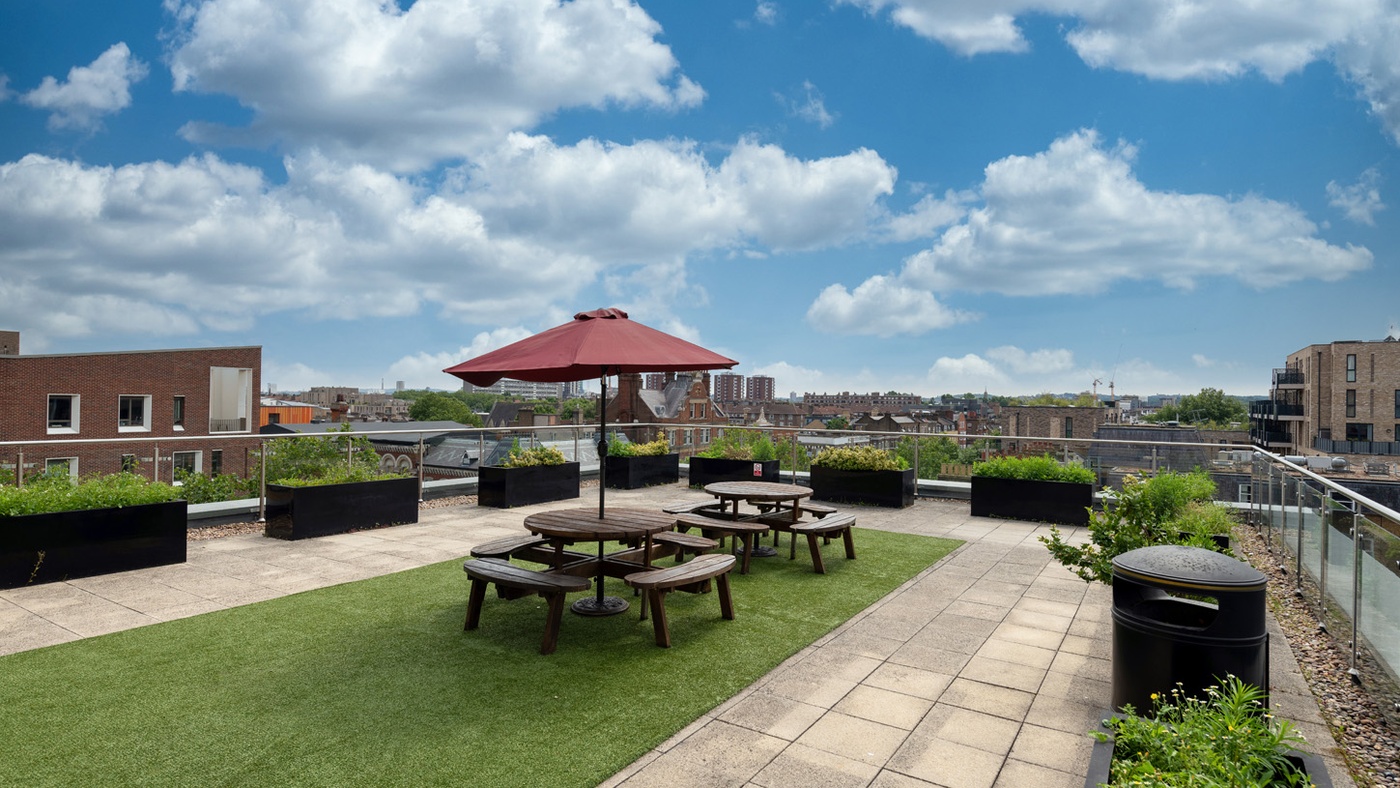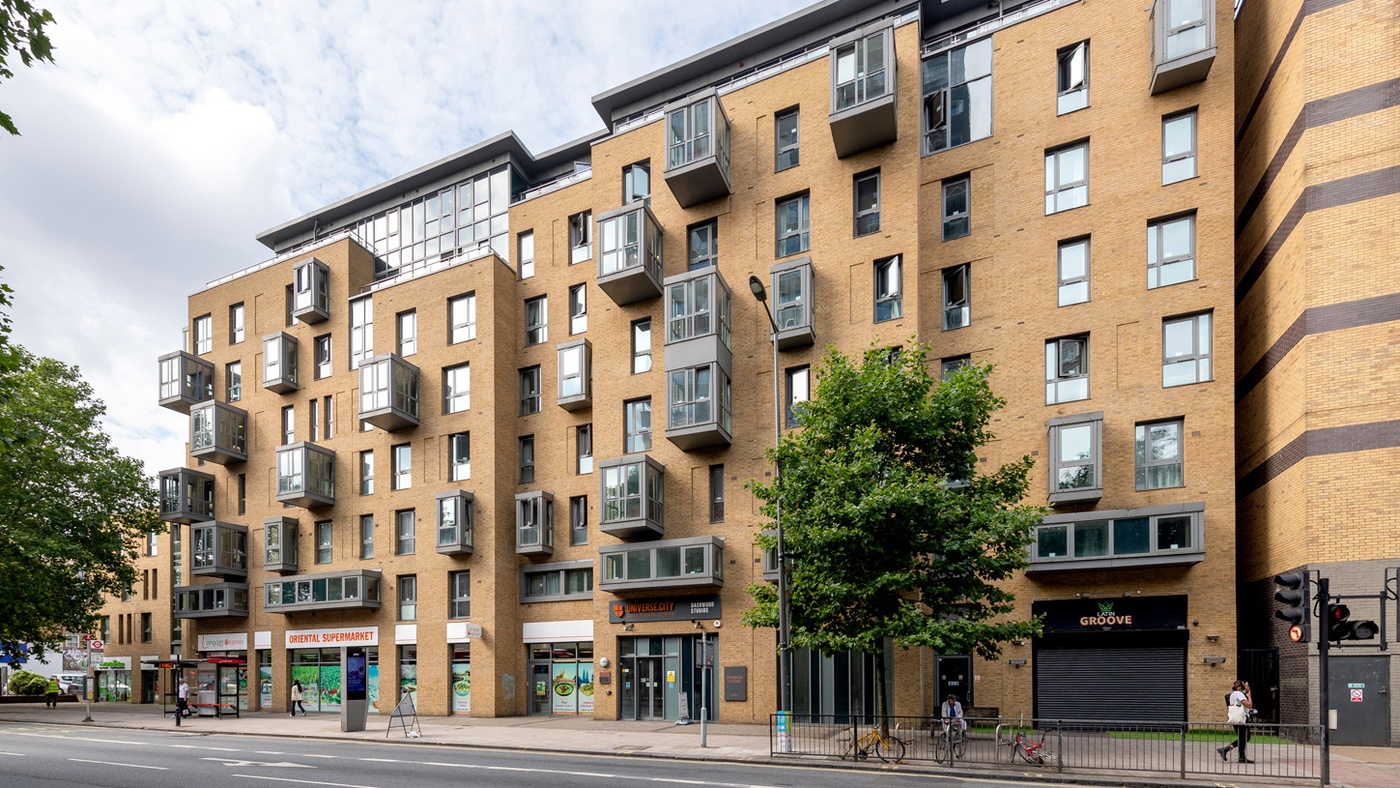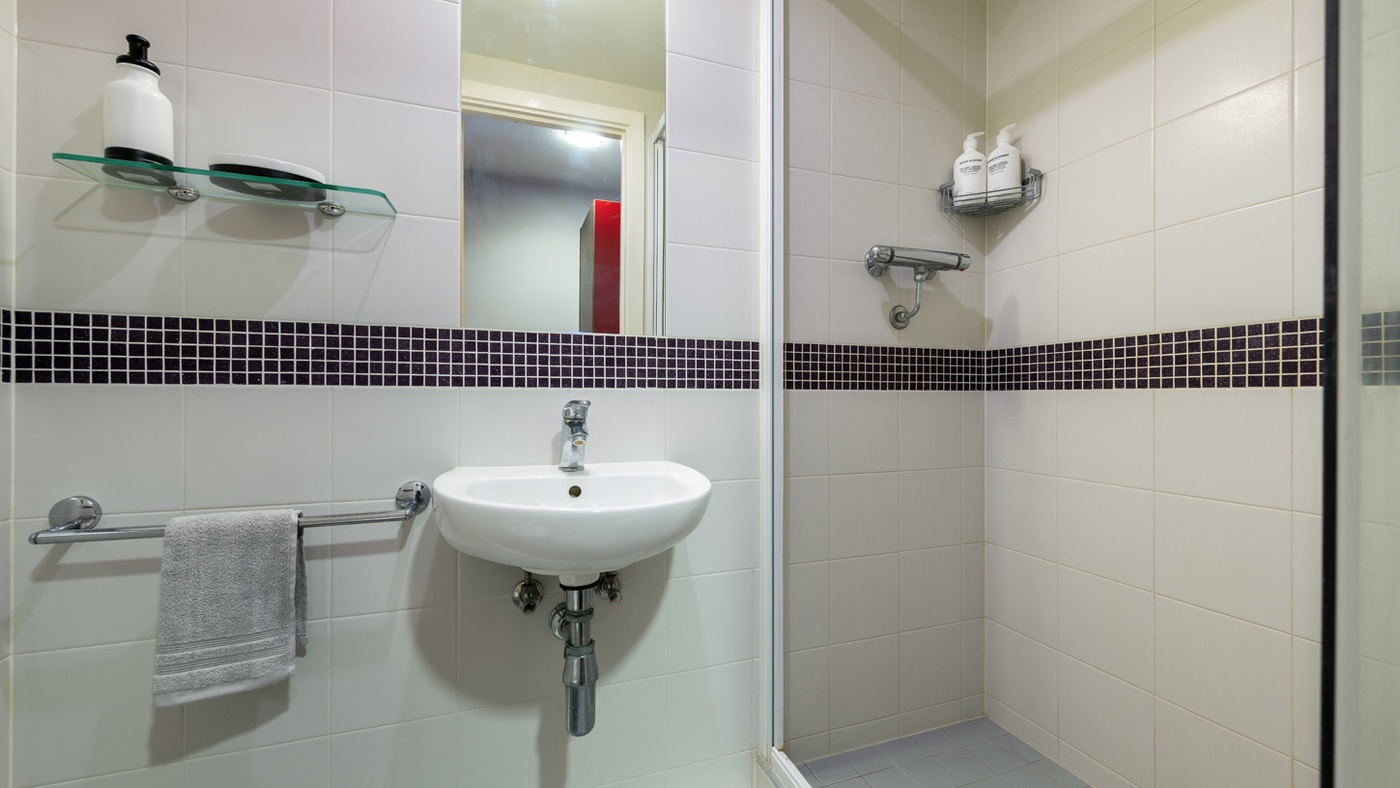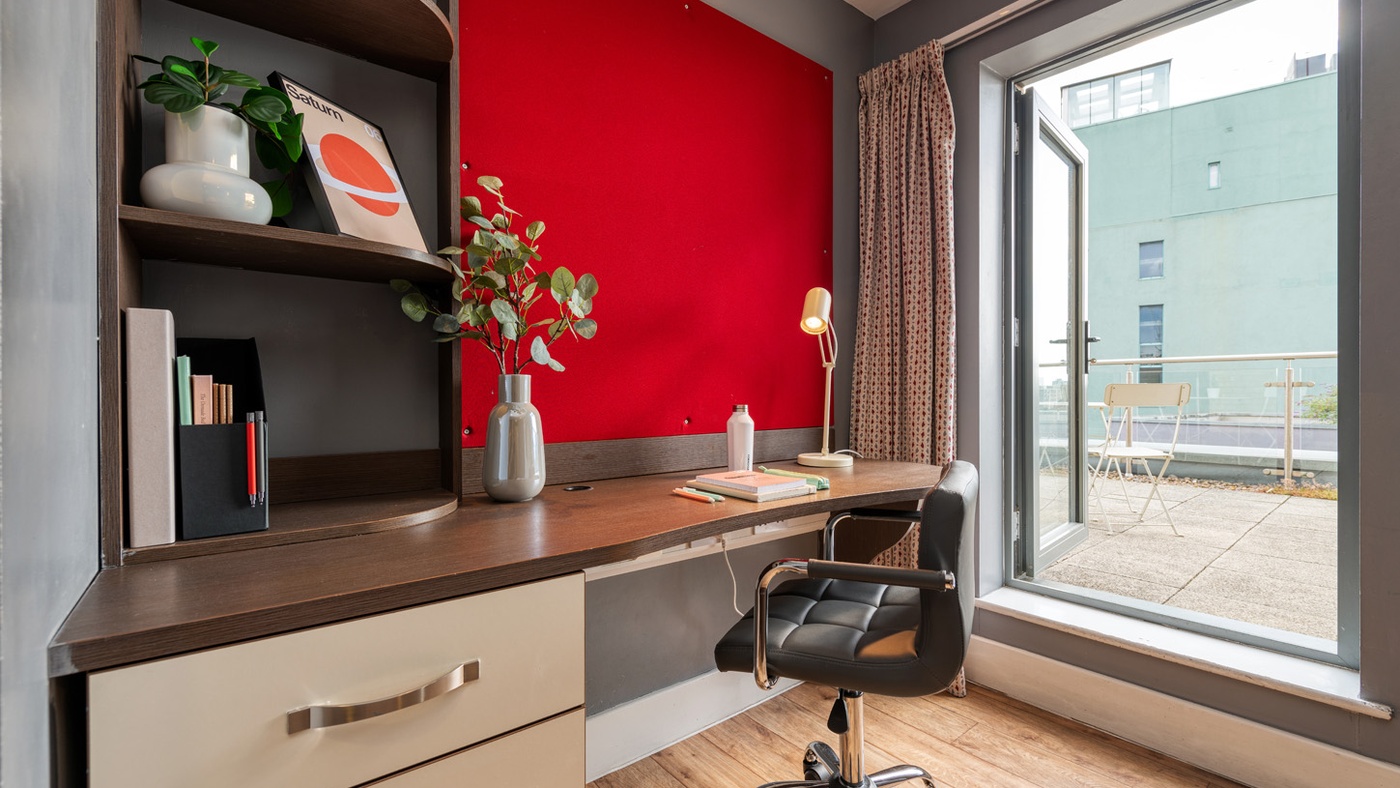 Dashwood Studios
Located just a 5-minute walk from Elephant and Castle Underground station, Dashwood Studios provides student living with great transport links to all of London's Universities. Living in Zone 1, you'll be within easy reach of some of the city's best attractions; it's time to start exploring!
Our exceptional social areas offer a relaxing space for all residents, available 24 hours a day. From the on-site cinema room and games room, to one of the two roof terraces with beautiful views over the city, you can be sure that Dashwood Studios has everything you need to chill out after a long day at the library, lectures, or simply exploring.
Student Accommodation in London
London is one of the world's few truly global cities and it is hugely popular with students from all walks of life. With over 40 different higher education institutions and more international students studying in London than any other city in the world, choosing to study in London really is a life experience like no other.